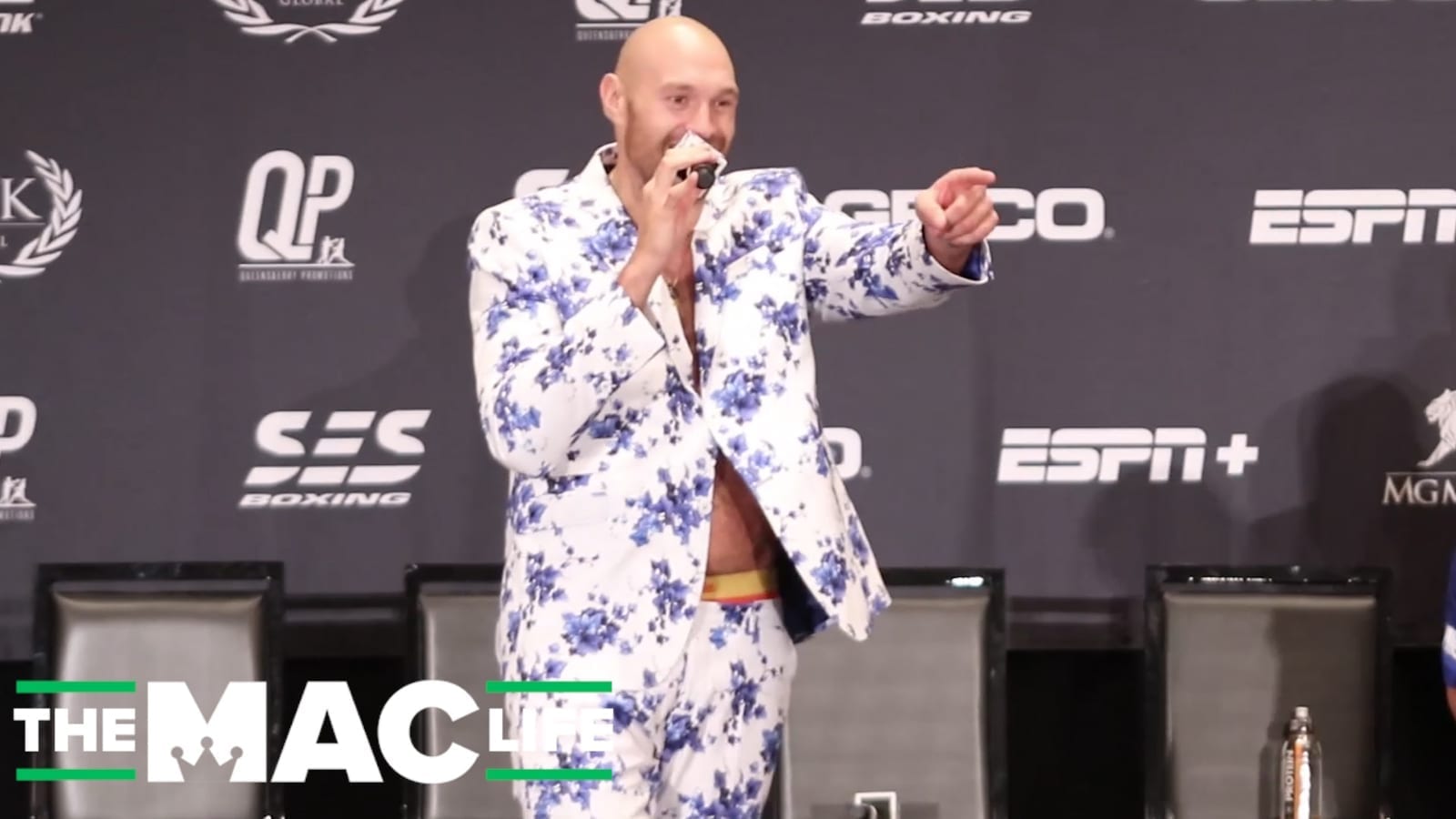 Ahead of a prospective February rematch with Deontay Wilder, Tyson Fury continues to search for new ways to sharpen his combat sports arsenal. 
Just days after releasing footage of him training with UFC middleweight Darren Till at Team Kaobon in Liverpool, Fury today spoke on Irish radio to reiterate his intention to travel to Dublin for some one-on-one training time with Conor McGregor.
The undefeated, lineal heavyweight boxing champion has been exploring various outside-of-the-ring opportunities since his last fight, a decision win against Otto Wallin in February, taking on a program with the WWE which saw him defeat gargantuan wrestler Braun Strowman as part of the WWE's 'Crown Jewel' event in Saudi Arabia in late October but if the world of fake fighting doesn't quite do it for 'The Gypsy King', he says he is seriously pursuing a new challenge in mixed martial arts.
Fury recently stated that he would be spending time in the Irish capital to pick up some tricks of the trade from Conor McGregor, something he reiterated during an interview with Irish radio on Thursday morning.
"I'm looking forward to coming to train with Conor. We're going to get it all planned in and I should be over in Dublin quite soon," Fury said to Today with Miriam O'Callaghan on RTÉ Radio 1.
"I think Conor is an absolutely fantastic fighting man. He has offered to train me if I ever want to go into MMA. What better trainer could I have than the Notorious Conor McGregor? I'm looking forward to coming to train with Conor. We're going to get it all planned in and I should be over in Dublin quite soon.
View this post on Instagram
"I'll definitely be coming over for a training session, that is for sure. I have been MMA training in the last week with Darren Till in Liverpool. I really enjoy the new challenge. I don't know where or when [I'll move into MMA] because after I finish my boxing career I fancy my hand at MMA as well."
Fury, who is promoting his 'Behind The Mask' autobiography, also reserved praise for another of Ireland's two-weight world champions, Katie Taylor. The undefeated Olympic gold medalist recently added the WBO junior welterweight title to her collection of belts which also includes every major lightweight championship in the sport, with Fury describing her achievements as "unbelievable".
"I've known Katie Taylor for a long time," Fury, who represented Ireland during his amateur career, said. "I think Katie Taylor is absolutely fantastic. She is definitely the fighting pride of Ireland in boxing.
"She is unbelievable, as an ambassador for women's boxing and sport in general in Ireland and all over the world. She is an inspiration to all."
Comments
comments