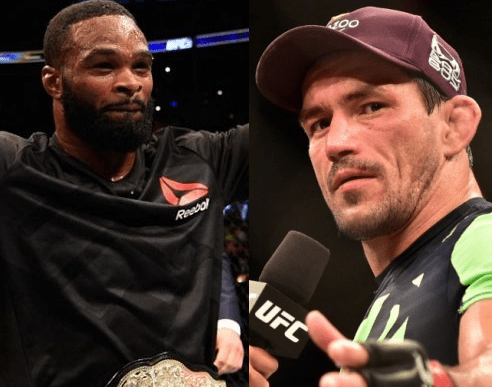 There will be three titles on the line in Anaheim, California at UFC 214.
As announced on UFC Tonight, UFC welterweight champion Tyron Woodley will be facing Demian Maia at the July 29 event. The clash joins the light heavyweight title fight between Jon Jones and Daniel Cormier, as well as the contest for the vacant women's featherweight title between Cris Cyborg and Tonya Evinger.
BREAKING: Tyron Woodley confirms that he'll defend his welterweight title vs. Demian Maia at #UFC214! Details here. https://t.co/5BukKCCjPy

— FOX Sports: UFC (@UFCONFOX) June 28, 2017
"Breaking news right here on UFC Tonight," Woodley said on the show. "Tyron Woodley will be taking on backpack, backpack, rapid-o you would not get the swipe from me, Swiper-no-swiping — Demian Maia and I will be throwing down July 29 in Anaheim California. He's coming for the belt, guess what? I ain't giving it up easy.
"I've been training, cutting those angles, striking, lifting my head up. I know he's going to go for my legs, take me to the ground, working that jiu-jitsu game. I will be very, very well prepared for this fight. And I'm excited, man, going out there and defending my belt."
Woodley was last seen defending his title against Stephen 'Wonderboy' Thompson at UFC 209. The fight was razor thin, and Woodley emerged with the judges decision. Against Maia, however, he'll be facing nearly a complete opposite challenge. Maia is regarded as one of the best jiu-jitsu practitioners in the sport, and has won seven fights in a row.
It marks the third time in UFC history that there have been three title fights on one card. Prior to UFC 214, only UFC 205 and UFC 33 took place with three belts on the line.
Comments
comments