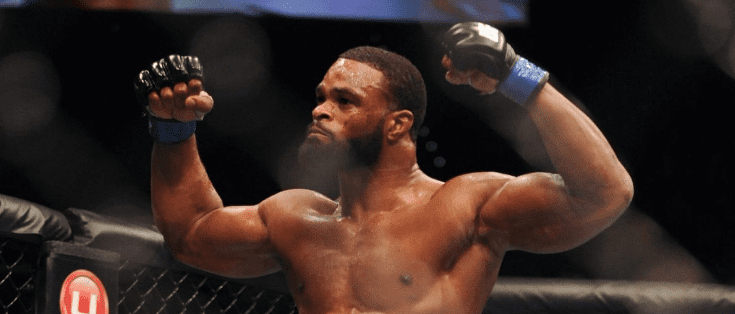 Tyron Woodley understands that people's backs get raised when he talks about fighting Georges St-Pierre. But while fans and pundits suggest his interest in meeting St-Pierre revolves around the windfall of cash Woodley would likely earn, Woodley himself says it's about legacy, not money.
Speaking backstage at UFC St. Louis, Woodley said — in spite of UFC president Dana White's suggestion Rafael Dos Anjos is the next contest for him — that his interest in a fight with St-Pierre is still the top of his list.
"I really want to fight Georges St-Pierre," Woodley said. "That's my number one fight. You can't be the welterweight champion and be the G.O.A.T right now. He's the greatest welterweight of all time, I can't claim that yet. Until I beat him, he's the number one that's ever fought in the Octagon.
"That's my legacy. People can call it a money fight, they can call it a super fight, you can call it whatever the hell you want to, but if he's still fighting, he needs to come and see me. That's my number one fight."
St-Pierre notably returned as an active fighter late last year, but did so as a middleweight. For a while, Woodley publicly shared his disappointment about St-Pierre's decision to change weight class. However, with St-Pierre since vacating his 185-pound title through illness, the welterweight champion Woodley clearly sees there might be an opportunity to meet the Canadian on the table again.
"I don't care, I'll fight him at any weight," Woodley said. "We don't have to fight at welterweight. We can fight at 185 or 180, — I don't think Georges particularly wants to go and defend another belt. There's too many young guys in the sport. He not only needed some time to himself, but he also mentioned some concussions.
"If you look at some of the guys that are high level wrestlers that can stop shots, with a guy like me, it's going to be very difficult to take me down and I'm not that stat guy, but I think I've got the highest takedown defence in the UFC, maybe even the history of the sport. It's going to be very hard to take me down, but not just because of that, but because I've studied Georges for so many years, I know his style so well, it's going to be really impossible for him to put me on the canvas and then he's got to deal with my power and he's had problems with that against Johny [Hendricks] and other guys. It's really a problem for his game plan."
Comments
comments