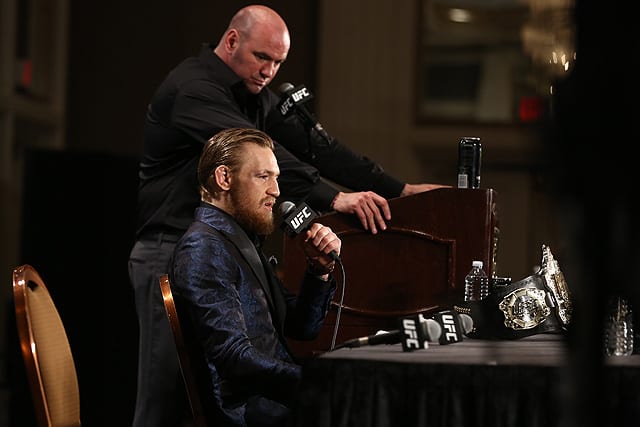 UFC president Dana White would really, really appreciate it if fighters stopped throwing the term 'money fight' around.
Since the rise and success of Conor McGregor, there has been an influx in fighters reaching new heights of their career, before asking the UFC brass for a fight either outside of their division or significantly up the rankings. Whether it's in an attempt to increase the amount of money they can make, or build their legacy with bigger names, it's certainly a more frequently discussed topic.
For White, it's a conversation that is particularly trying.
"The only reason there are 'money fights' is because of the rankings," White said, speaking post-fight at UFC St. Louis. "A guy gets into the top 10, and then a guy breaks into the top five. When a guy breaks into the top five, that's when everybody is interested in him. And when guys talk about money fights, it's the stupidest thing I've ever heard.
"You know what's a money fight? Any fight with Conor McGregor is a money fight. There are certain people. Ronda Rousey, any fight with Ronda Rousey is a money fight."
Instead, White would much rather fighters focus on their own career, instead of trying to emulate the Irish sensation.
"Build yourself into a star, and you won't be talking about money fights," White said. "It's getting to a point where Conor McGregor has exploded and become so huge that this whole money fight thing came about. And even if you're not fighting Conor McGregor, you want to be on Conor McGregor's card. Become a star. Don't worry about Conor McGregor or fighting on Conor McGregor's card. Become a star yourself."
Comments
comments