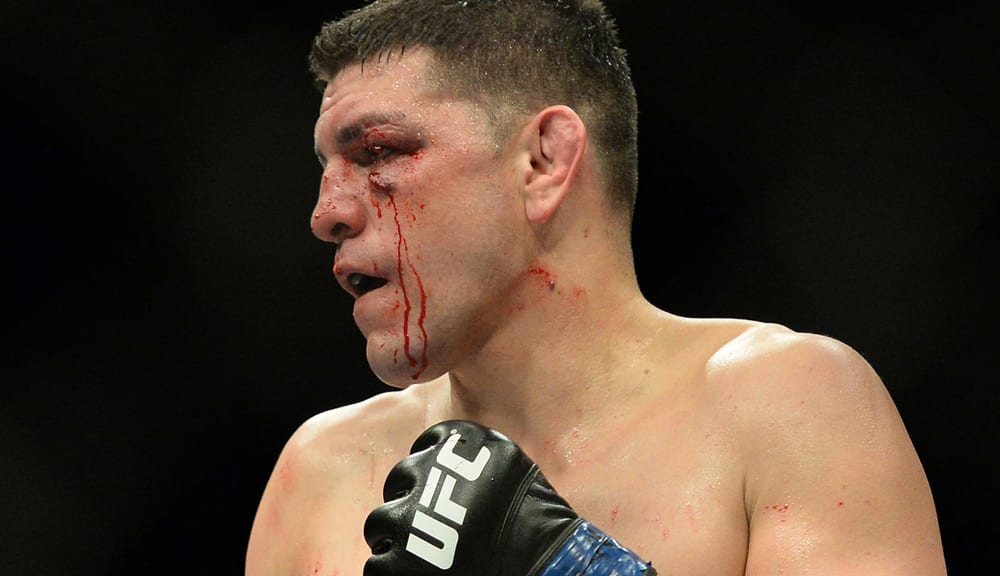 With Nick Diaz strongly linked to a return to the cage early next year, another of the welterweight division's standout fighters says that Diaz's actions in the cage have already stood him out from his peers.
It was recently revealed by his manager, Kevin Mubenga, that Diaz has completed a 14-week training program and undertaken a test weight-cut ahead of a proposed return to the cage for what would be his first fight in six years but despite not winning a fight in the UFC since a 2011 win against B.J. Penn, Woodley says that the elder Diaz brother's actions in the cage speak for themselves.
"If he comes back to the sport, I think it will be good to have another household name back in the sport competing," Woodley said to TMZ Sports (via MMA Fighting). "But if he doesn't, he doesn't. I think he's done enough in his career, in my opinion, to be inducted into the Hall of Fame."
Nick Diaz may not seem like your typical candidate to be enshrined in the UFC Hall of Fame but Woodley says that his status as one of the sport's originals should be recognised.
Diaz, now 37, first competed in the UFC in September 2003 and would generate headlines in the then-upstart sport for a 2004 knockout of Robbie Lawler, who was then considered among the most dangerous fighters in the sport. Diaz's UFC career would extend through a few wins and losses (including that legendary scrap with Diego Sanchez in 2005) before trying his hand elsewhere.
View this post on Instagram
Another outstanding performance soon came in the PRIDE organisation, where Diaz handed Takanori Gomi just the fourth defeat of his 31-fight career with a rare Gogoplata submission. The fight was subsequently declared a no-contest when Diaz tested positive for marijuana.
Runs in Elite XC and Strikeforce followed, and he would win the vacant Strikeforce 170-pound title in a bout with Marius Zaromskis in January 2010 — part of an 11-fight win streak which was the best form Diaz displayed in his career.
"I think (he deserves it), because he was one of the original bad boys," Woodley continued. "There's some people in the Hall of Fame that had never won a world title, whether it's just a fight, there's so many different categories of it. But when you think about it, he came over from Strikeforce, he had a crazy reputation then, and I think you've got to take some of that into account when you're thinking about a Hall of Fame inductee.
"They bought the organization, they bought the rights to all those fights, so I think the accolades have to come with that."
Comments
comments