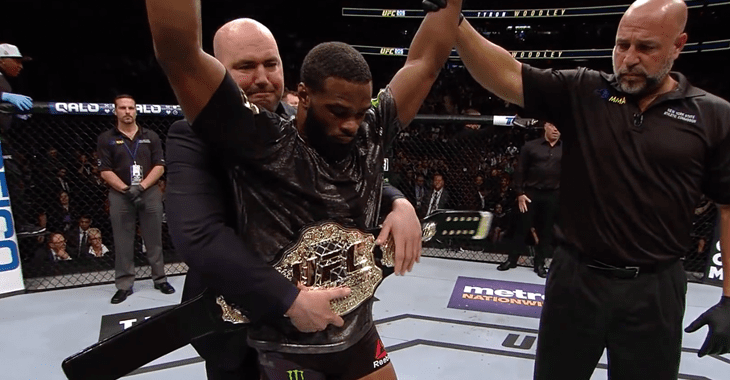 Tyron Woodley has never been shy of airing his grievances.
It seems almost since the moment the UFC welterweight champion won the belt from Robbie Lawler at UFC 201, Woodley has felt disrespect from some area of mixed martial arts. And be it from other fighters, from fans or from the UFC promotion itself, Woodley has shared his issues publicly in an attempt to have his voice heard.
Now, as he gears up to face Darren Till at UFC 228, the 170-pound king has had enough of it all. After defending his title against Stephen Thompson twice and Demian Maia, Woodley believes he should be awarded more respect than he currently gets, and from now on is making a point to remind fans just how good he is.
Starting with Till.
"This is personal to me," Woodley said, speaking the Ariel Helwani MMA Show. "This fight ain't business. It's personal on many different levels. It comes a point in time where enough is enough. I need to go out there and — there's a lot of people like [goldfish]. They got a short term memory, and occasionally you gotta remind them. Remind them how devastating I can be. I own some of the most vicious KO's ever seen in the Octagon.
"I am the G.O.A.T. I'm the greatest of all time for welterweight. I'm just speaking it to existence, and it's time for the reminder. It's personal to everybody that's in front of me from now on. Everybody who want to fight me, basically you're saying, 'Fuck you, Tyron. I wanna take your money, I wanna take your platform, I wanna take food out your kids mouth, I wanna stop your ability to buy a lot of stuff that they otherwise wouldn't have, I wanna take your legacy, I wanna take away your GOAT status'. It's personal to everybody. We can be cool, but when we get in the Octagon, it's personal, it's on."
–
Comments
comments