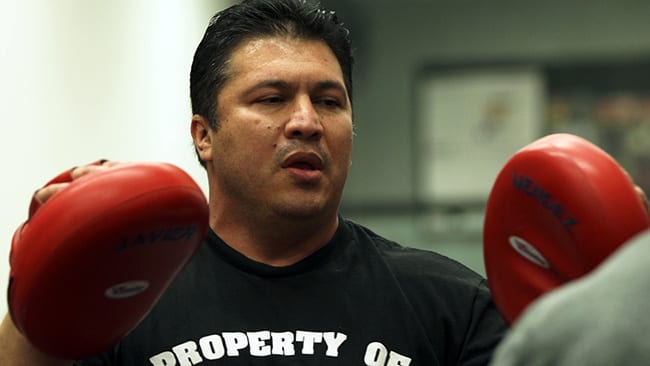 Khabib Nurmagomedov's coach Javier Mendez is well aware of the strengths and weaknesses of his fighter. He's also very much aware of the strengths possessed by UFC 229 opponent Conor McGregor.
So when fan's voice their perception that it's a striking vs. wrestling battle, Mendez agrees. And you can bet he plans on doing as much as he can to get Nurmagomedov to avoid McGregor's strikes.
"To me [Conor McGregor] is the best standup guy in the whole UFC, in my opinion," Mendez said, speaking with Niall McGrath on the latest episode of the Eurobash podcast. "He's got incredible relaxation, he approaches it like a scientist, he knows exactly how to read you, he knows how to bait you. He knows how to put you right into that trap and before you know it you're caught sleeping.
"He's a master, in my opinion, on the fighting arts, and he's also got a ground game — he's good everywhere. I'm not sleeping on how great he is. So I'm prepared for everything but he is a great fighter."
Because of Mendez' appreciation of McGregor's skills, he thinks any attempts to focus on improving Nurmagomedov's striking ability in order to compete in that arena with the Irishman would be foolish.
"There's no amount of time that we have that's going to help us try and get him to stand up, there's just no way possible," Mendez said. "So, I'm not gonna say, 'Oh yeah, we're gonna get him ready'. Come on, wake up, it ain't gonna work. We have to fight our strengths, we have to find ways of opening the doors to where his weaknesses are and likewise. This is basically the classic grappler versus the classic striker fight. Keep in mind they can both grapple, they can both strike, it's just one is better than the other at [each].
"We're the better grappler, he's the better striker. That doesn't mean we won't strike, it just means he's better. It's about who plays whose game."
–
Comments
comments