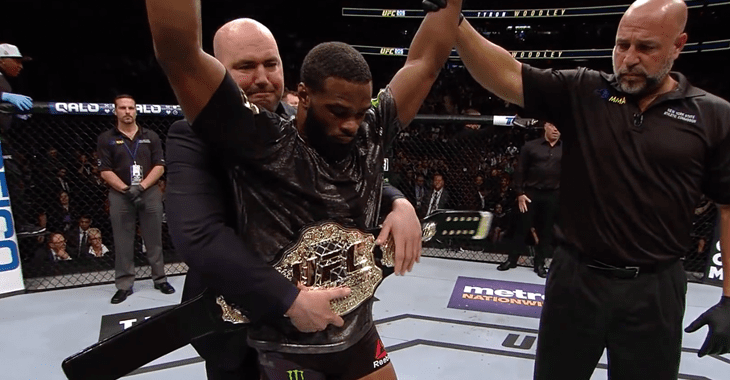 It wasn't so long ago that UFC welterweight champion Tyron Woodley was angling for a fight with the soon-to-be returning Georges St-Pierre.
Woodley was vocal in his desire for a "money fight" with St-Pierre, or even Nick Diaz, in spite of the list of contenders established by the divisional rankings. A bout (two, in fact) with Stephen 'Wonderboy' Thompson followed but now, and with who he will be facing next still unclear, Woodley knows that St-Pierre's impending return to the sport in the 185-pound fold means that a lucrative bout with the Canadian legend is off the table, for now at least.
And, as Woodley told TMZ (as reported by Bloody Elbow), he doesn't respect St-Pierre's decision to return to the UFC in a weight class in which he has never competed.
"He got away right before I got the chance to get my hands on him," Woodley said. "And now you come back, and you don't come back to your own weight class, man? I can't really respect that."
Should GSP lose his title fight to Michael Bisping it is possible that a return to 170-pounds (and a potential clash with Woodley) could be his next option. According to recent reports, St-Pierre was included in the USADA testing pool from the beginning of April and will be required to submit four months' worth of clean tests before he is deemed eligible to compete — as is the case with every fighter who returns from a hiatus, whether they have a history of taking performance enhancing drugs or not. St-Pierre, of course, has never failed a drug test and has consistently been an anti-PED advocate during his active fight career.
This means though that the Bisping vs. St-Pierre title fight might not happen until the end of July, or perhaps even early August so, in all likelihood, Tyron Woodley will be waiting quite some time if he is to ever get his hands on the most dominant welterweight to have ever competed in the UFC.
Comments
comments