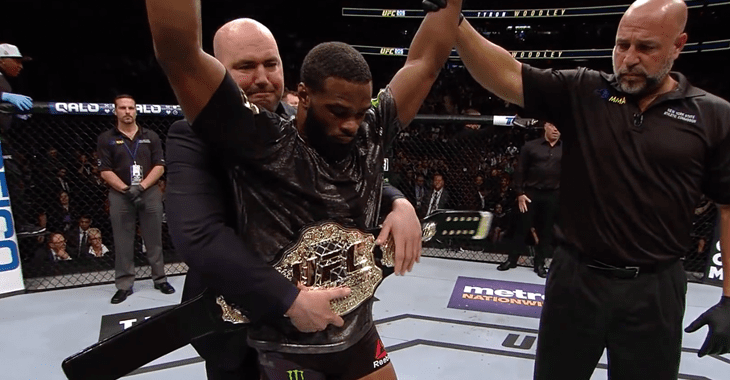 Tyron Woodley and Dana White have an odd relationship, as far as employee and boss go.
One minute they appear to have squashed any issues they have, only for one party to re-open the wounds by insulting the other. Currently, UFC president Dana White appears to be the aggressive member of the duo, having gone public multiple times recently with his displeasure at what he feels is un-champion like behaviour from Woodley — namely, not wanting to fight Colby Covington at UFC 233 in Anaheim, California in January.
According to Woodley, however, the UFC boss is off base with his accusations, as detailed on the Ariel Helwani MMA Show earlier today. Woodley says he's more than willing to fight anyone, he just needs to be sure his hand is ready to enter combat with first.
"I've agreed to fight Colby," Woodley said. "I've agreed to fight really anybody – that's the funny part. I just asked for a little more time before I can confirm [my hand is okay]. I've never said no to Jan. 26. Let's get that on record. I actually want to fight in Anaheim. I'm undefeated in Anaheim. I've got a lot of strong roots in California, so it would be silly for me not to want to fight there."
Unfortunately for White, it seems Woodley isn't willing to put his championship status at risk without knowing he's as ready to go as he can be. Why? Well, the belt comes with two things: a lot more cash and a small window.
"I don't make money if I don't fight," Woodley said. "If y'all think I want to sit around, and you think I make enough money in music, or TV, or movies, you guys have got life messed up. I make my money in fighting. That's where I do the best at, and I recognize it's my season right now, and that's what I'm prepared to do.
"… What a champion doesn't do, he doesn't go out there with an injury. He doesn't go out there knowing he's not 100 percent and rolls those dice, because if I go out there, and my hand's not ready to go, and I fight Colby Covington, and I come up short that night, nobody's going to care that my hand's hurt. Colby Covington's going to be, 'Nah nah nah nah, ha ha ha ha ha,' and he'll never fight me again, because he knows the only chance he can beat me is if I'm lacking in one department. Outside of that, it's virtually impossible for him to beat me."
Comments
comments