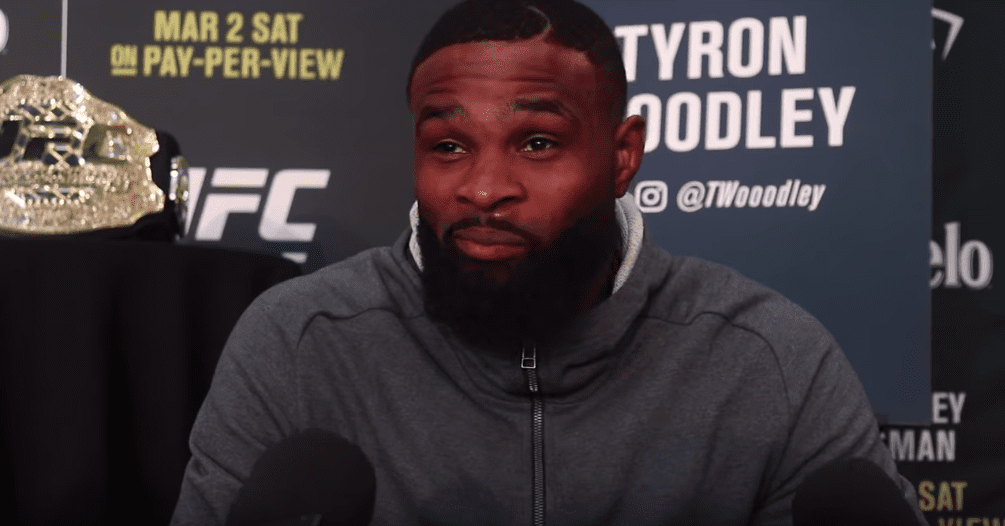 The recent retirement of Georges St-Pierre has reignited talk of the Canadian's status as being the greatest of all time to have fought in the UFC's welterweight fold, and given the fact that his career has reached its conclusion it is now possible to appraise his career as a whole rather than leaving space for future achievements.
Tyron Woodley, the current welterweight champion, is the second-longest reigning 170-pound champion in UFC history having held the championship now for 941 days. He still has a long way to go to surpass GSP's 2,064 days as champion in his second spell with the title.
Woodley, though, is unbeaten in five title fights and will look to make that sixth this weekend as he states his own case to be considered the greatest welterweight in history. Speaking to the media, including TheMacLife, ahead of UFC 235, Woodley outlined what it will take from him to be considered the GOAT in his own right.
"Performances, performances, performances," Woodley said.
"Darren Till, that was me showing you guys: This is what you can expect. All I've got to do is just keep doing that. If I do that, shit,  I might be able to do that Saturday and that may be enough right there to just go out there and whoop this kid up."
Tyron Woodley would love a chance to spar with Georges St-Pierre in the gym.

FULL –> https://t.co/hZCcsyUegy pic.twitter.com/ivJ7u2pW70

— TheMacLife (@Maclifeofficial) February 28, 2019
Woodley faces surging contender Kamaru Usman in the co-main event this weekend and while there is no personal animosity between the two (from Woodley's view at least), the champion said that he won't sit back and take insults from the title challenger.
"It didn't get personal, I just can't let him sit there and talk (expletive) and not believe it," Woodley said. "You don't sound confident, you don't sound like you believe it and this entire time it's been one person talking: him. … I don't have to talk, I just have to go out there and do."
Woodley, who is a native of Ferguson, Missouri, a scene of social upheaval in recent times and said that he was anticipating some 'black on black crime' this weekend.
"I see the chalk being traced around him," Woodley said.
Comments
comments