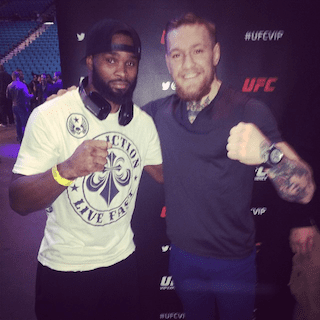 At the moment, the welterweight division is currently trying to work out the Colby Covington phenomenon. With the up and coming wrestler's sudden output of brash trash talk — particularly towards champion Tyron Woodley — it seems the 170-pounders are working out how best to react.
Along with that, Covington's new persona is drawing him as much criticism as praise. His recent fracas with Fabricio Werdum in Sydney has appeared to draw plenty of fan ire, particularly considering his decision to press charges for the assault-by-boomerang.
For the champion Woodley, who has trained alongside Covington for years, it's all a bit much. According to him, Covington's simply trying to match some of MMA's best known talkers — as isn't exactly nailing it.
"When you've got a person who — he had 5,000 followers until he disrespected an entire country — he doesn't quite put himself on that same radar," Woodley said, speaking on The MMA Hour. "When you've got a person who fabricates and makes up stories.. Chael Sonnen was good at it, Michael Bisping is good at it, Conor McGregor is the best at it. If you're going to go that road brother, at least sound right. Don't on one hand be all: 'I'm this tough guy,' and your script sound stupid."
Woodley isn't the first fighter to suggest Covington is attempting to copy the McGregor 'model' for success. Shortly after his recent altercation with Covington, Werdum also accused Covington of simply following the Irishman's fashion.
For both Woodley and Werdum, there's a common theme — it doesn't matter how hard you try if it doesn't feel natural.
"The way the sport is set up, people think this is the way to make money," Woodley explained. "What they don't recognise is Conor's deal, he actually lives up to most of what he says. He's not undefeated, but he put himself in really great positions. … All his moves make sense. All his choices make sense. So he can do that, he can talk the talk, he can walk the walk. Because 80 to 90% of the time he actually lives up to what he says.
"So when all these other fighters try to use his rubric, they don't even know the history behind it and why he does what he does. They sound silly."
—
Comments
comments