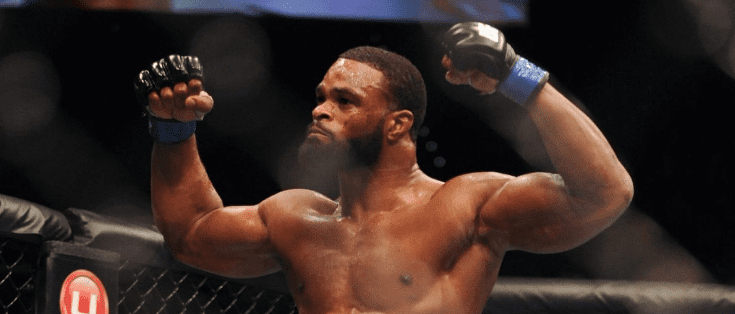 If Colby Covington began his new gimmick of talking smack with the sole purpose of fighting UFC welterweight champion Tyron Woodley, it's undeniable that it's worked.
After Saturday night, the brash Oregonian finds himself the interim champion to Woodley's 170-pound crown, and as such the pair will meet later on this year. And despite reservations prior to UFC 225, it feels now that the fanbase has gotten on board, and Woodley versus Covington could prove to be one of the bigger fights this year.
And it wasn't just the fans that Saturday seemed to be a turning point for. For quite sometime, Woodley himself has been uninterested in Covington's name when presented to him. Today speaking on MMAFighting's The MMA Hour, however, that disinterested appears to be over. Instead, Woodley says, it's time for Covington to get what he deserves.
"He's not on my level, he never well be on my level," Woodley said. "But now he's to the point where, it's almost my duty as a martial artist to fuck him up. It's almost my job as a martial artist, for whatever I stand for — I talked to Dan Lambert (ATT gym coach) today. I told him, 'After I whip [Covington's] ass, I want him off the team'. He's a disgrace to American Top Team, to the tradition it was rooted in. He's a disgrace to the sport, and he's a mockery to the toughest, the best division in the UFC's history, which is the welterweight division. He's a disgrace to it.
"It's not like he's just going out there and saying something he believers, he's staging and pre-meditating very controversial, very racial, very socially insensitive statements, and he can't back it up. He's talked his way into a fight with me, the problem is when they lock this Octagon I'm going to unleash an ass-whooping on him that nobody has ever experienced. And he can't run. He can't out strike me. He can't outwrestle me, and anyone can get in shape, brother. You think cardio gonna beat me? Let me see you put your chin on the treadmill. Let me see the cardio of your chin, because he hasn't been hit like I'm going to hit him."
Covington's rise has been sudden — and directly linked to his new found persona. Prior to his breakout victory over Demian Maia (after which he labelled the Brazilian crowd "filthy animals"), Covington was usually found on the lower tier of cards. As soon as he began talking trash, he was immediately propelled up the rankings far faster than he would have been, meaning he's found himself in title contention in a relatively short amount of time.
Woodley believes there was an element of picking and choosing too.
"He's ran from the match ups that give him problems," Woodley said. "Of course you want to fight me, because guess what? Win, lose or draw, you make an extra $200,000 and you fight for the world title. You can always say, 'Well, I lost in the world title [fight]'. He's okay with that, saying he lost. He knows he's not going to win this fight.
"My biggest challenge in this fight is to mentally stay the competitor that I am, and to stay to the game plan and not allow my bitter hatred for him to take me out of competing and going to want to just fight him."
But, that's all irrelevant now, the champion says. Now it's just time for him and Covington to throw punches at each other. And while he may have been hesitant to care about Covington before, Woodley is well and truly involved now.
"By him beating RDA and beating Demian Maia and winning the boo-boo belt, he [has] emerged as worthy to get this ass-whooping he gonna take," Woodley said. "And I'm not going to make it fast, it's not going to be in the first round. I'm going to talk to him, I'm going to embarrass him, and I'm going to do it the entire fight. And [if] the refereree gets close I'm going to say, 'Move back, brother, I'll tell you when to step in and stop this fight. Don't fucking come in and save his life, let him take this fade. Let him take this L. Let him take this ass-whopping'.
"Because I don't want him to ever fight again. I wouldn't care if he didn't make it out the Octagon. And I'm dead ass serious about that."
Comments
comments