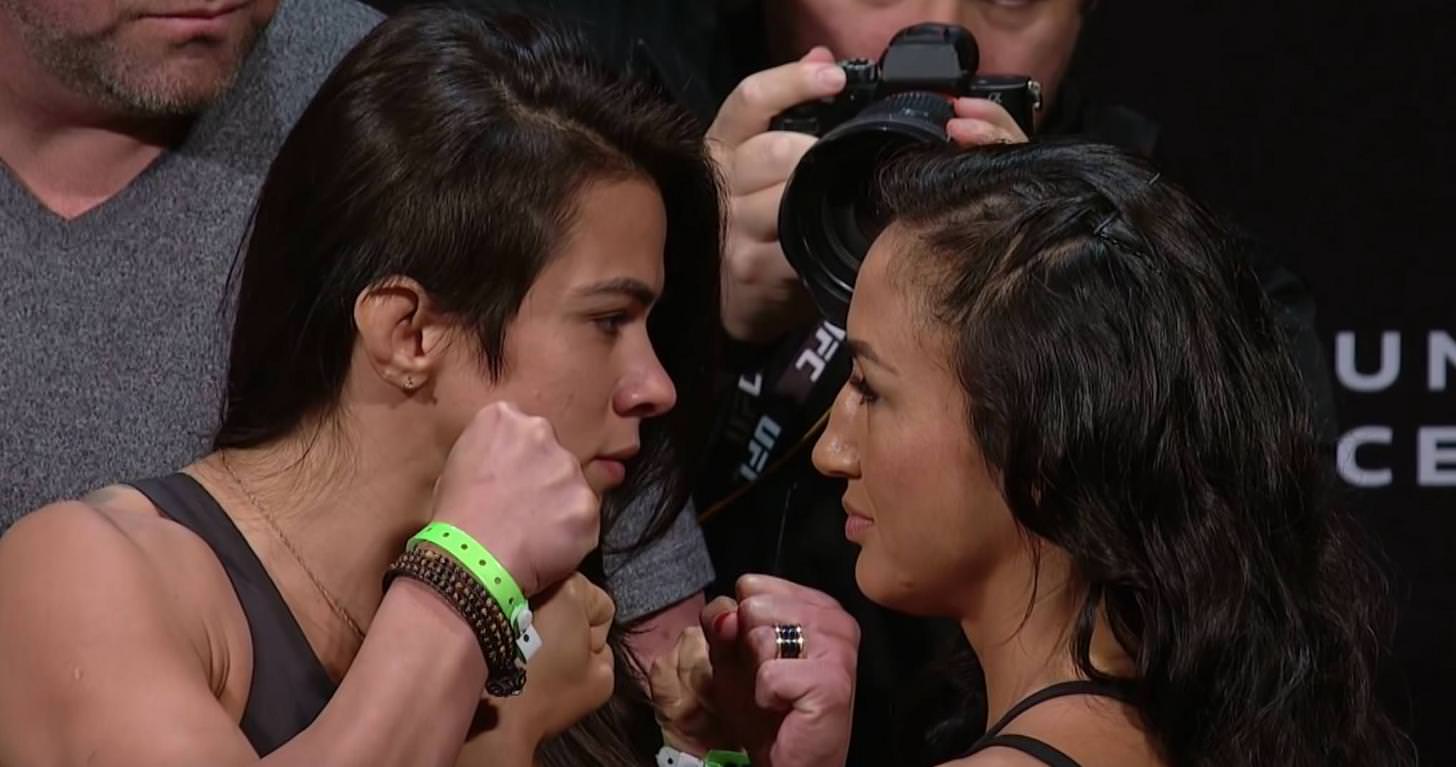 Prior to UFC 225, Carla Esparza and Claudia Gadelha had a five year rivalry stemming back to the earlier part of their careers. But despite going three hard rounds against each other in Chicago, it seems the ill feelings aren't going anywhere.
While it was Gadelha who walked out the winner on Saturday, there was some controversy about the split decision result. Certainly, Esparza felt hard done by as she left the Octagon.
"I personally think I won rounds one and three," the former strawweight champion said speaking on MMAFighting's The MMA Hour.
"I definitely think throughout the fight I inflicted much of the damage. As you can see, I didn't really get beat up too bad. I felt she got some takedowns and was just holding on for dear life, and didn't really inflict much damage in the fight. It's a fight, to me, if you want to win, you have to do something, you know?
"I definitely think she got more takedowns and had more control time. Maybe certain judges score more heavily on takedowns and control, even if there is no damage really being done. I think a lot of judges tend not to be on the same page. Obviously it was a split decision, so one judge thought differently. It is what it is. I don't want to be a sore loser, but personally I felt I won the fight."
But while Esparza might be trying to keep upbeat about the outcome, there was something about Saturday night's contest that she definitely feels was unfair. Namely, she says, Gadelha was cheating en route to victory.
"Personally I have things to say to her," Esparza said. "Flat out, this is not an excuse because I lost, 'cos honestly I felt I still won, but she cheated in the fight. She greased before the fight. I was considering saying something to the referee in between the [rounds]. I was going to say, "She's greasing, she's greasing" but I didn't really know how to go about it."
Greasing, for those unaware, is a term in fighting for when a fighter has her corner apply excess vaseline to their back and arms so as to make it harder for opponents to grip. Fans may notice referees checking the fighters for 'grease' before they enter the cage by rubbing on their shoulders and arms.
According to Esparza, it fits into Gadelha's character.
"It's pretty shady to me," she said. "I've rewatched the fight, we finally rewatched the fight and my hands were slipping right off, even when I was trying to grab armbars in the fight my arms were just slipping right down. She's a cheater, but it doesn't really surprise me. In my opinion she's been a dirty fighter throughout, so it is what it is.
"Like I said, I'm not too surprised that she's a cheater and found a way. It's kind of upsetting — I felt I won it anyway — but I felt things could have been more dominant on my side had that not been the case.
"Claudia, you're a cheater. Straight up. It's not cool."
Comments
comments