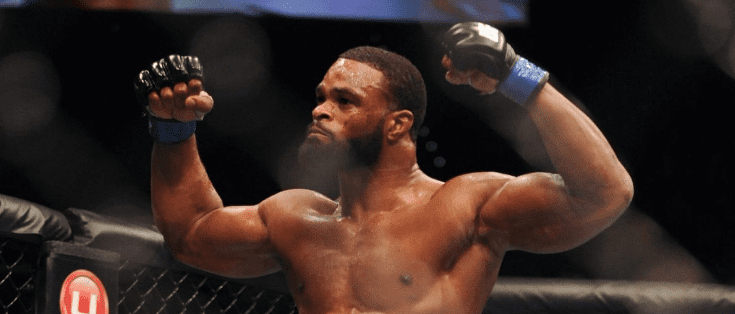 Tyron Woodley and Dana White have an interesting relationship. The pair have gone back and forth with each other over the past few years on a number of occasions, with Woodley asking to fight someone only for the UFC president to say Woodley won't be getting the person requested.
Combine that with the manner in which White usually likes to rebuke claims, and you have a situation where feelings are at risk of being hurt. Case in point, White's recent comments in regards to Woodley's suggestion he'll be facing Nate Diaz in the future. On a recent edition of UFC on FOX (a show Woodley is regularly featured on), White said in no uncertain terms that Woodley was not getting that fight.
"He's full of shit," White said about the welterweight champion. "That fight was never made. You couldn't be more wrong, He couldn't be more full of shit. It's absolutely not true. It's so not true that our lawyer actually hit him up today — hit his manager up, and said, 'He needs to stop saying these kind of things,' because it's absolutely not true.
For Woodley, the comments are getting to be a bit over the top. As the UFC welterweight champion, Woodley feels something of a partner to the promotion, and for the company boss to be insulting him feels unnecessary.
"That's a little bit harsh, a little bit hardcore for somebody who is wearing the belt of your organization, that people and young fighters aspire to enter the UFC, they aspire to be UFC champion," Woodley said, speaking on MMAFighting's The MMA Hour. "I don't think many people are going to aspire to be the champion when they see how champions are treated. And they see that the non-champions and the people that are unprofessional — middle-finger flicking, shit talking — they're actually making the money.
"So what kind of picture are we trying to put out? I thought we were going in the direction to be parallel with the NFL, NHL, MLB and the other professional sports. It's a circus until it comes to Tyron and now we want to go back to the old-school rubric. I got issues with that."
"I just didn't think that was right," Woodley continued, speaking about White's recent rebuttal. "I think even if he thought that way, it could have been said a different way. I think a lot of people spun what I was saying. Never said this fight was in negotiations. Never said any of those things. Then when Nate came out, I never heard anybody say how full of shit Nate was. It's so funny it was a one-sided bashing."
Now, after an initial phone call, Woodley is set to meet with White over the next few days to settle their most recent issue and put their squabbles behind them — until they're back at it again, at least.
–
Comments
comments