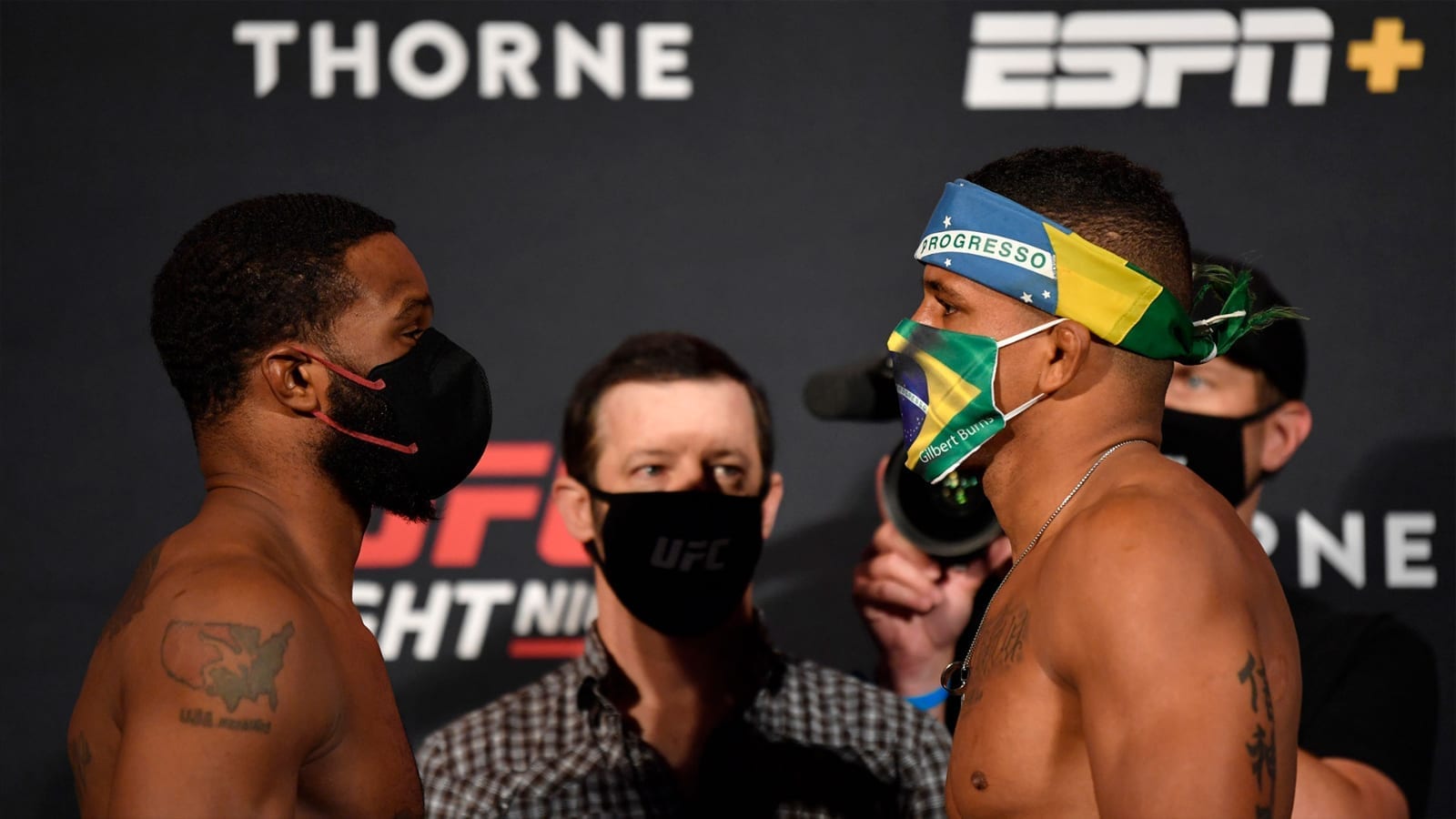 Nobody likes to lose, but Tyron Woodley says that the unanimous decision defeat to Gilbert Burns he experienced in the UFC Apex last weekend brought with it a moment of calm. 
Woodley has now lost two fights in succession for the first time in his career, dropping several rungs on the title ladder in the process but the former UFC welterweight champion isn't allowing the moment overwhelm him and said in a video released after his fight that he isn't disheartened.
"I've got a weird peace for somebody who just got they ass whooped," Woodley said during an Instagram Live video. "I don't know why I'm at peace. Not with losing, not with defeating, not with losing to Gilbert. Gilbert came out and did his thing and at the end of the day, it wasn't a situation like the [Kamaru] Usman fight where I just felt like I wasn't there.
"I was there. I was present. I was responding. I heard what my coaches was saying. I just couldn't get my hands on him. I can take a loss when I go out there and felt like I was present in my head and body."
Woodley has now lost ten straight rounds in the octagon when you combine the Burns and Usman fights but Woodley says that he has nobody to blame but himself, admitting that he entered the cage in excellent shape both mentally and physically.
View this post on Instagram
"I don't have no excuses," Woodley said. "I trained hard. I was in great shape. I felt like I did everything right. Everything felt good from the walkout to the stretch, every single thing about the fight. I looked him in the eyes yesterday and I knew he was going to be ready to fight, which I thought that was good.
"He did a good job of keeping the distance, not coming into shots and I just felt like I was reaching."
However, Woodley says he is happy that he saw the fight through until the end and admitted that he took motivation from the spate of protests surrounding the death of George Floyd which have taken place across several major US cities in recent days.
"I wasn't fitting to f**king give up, and I was just thinking about everybody right now, who's protesting and fighting for something good with missing [George] Floyd's family, so I'm like, I can't just give up in here," Woodley said. "I never really gave up hope that I was going to win the fight to be honest."
Comments
comments