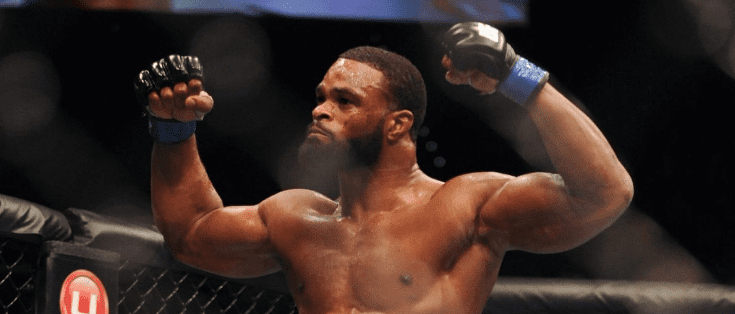 Former UFC champion Tyron Woodley was heavily criticised for his performance last August in his professional boxing debut against Jake Paul, but ahead of this Saturday's rematch he says that he has learned his lesson.
Woodley, who came into the fight on the back of four successive defeats in the Octagon, was outpointed by the YouTuber by split decision but was the subject of acrimony from fight fights after failing to push forward as many hoped he would have, particularly in a fourth round in which he had Paul hurt and stumbling against the ropes.
But after being given a second chance following the withdrawal of original opponent Tommy Fury from the originally scheduled fight, Woodley says that his combat experience will help him go one better this Saturday night.
"It favours me because I'm the person that's known to make the adjustments," Woodley told sports reporter Helen Yee. "The rematch with Wonderboy Thompson, and just in general, really. I'm a professional and my IQ is what made me unique and special in mixed martial arts. I was in there. I didn't have footage the first time, I didn't have any sparring rounds, I didn't have any shadow boxing, now I have eight full rounds. Not of him vs someone similar to me, him vs me."
"I can see on film how he reacted, what he did to what, and I can make those adjustments. His coaching and his staff are not as intelligent as my crew. We're gonna break him down like a molecule, break him down like bacteria, we're gonna come through and I'm gonna win every single minute. He will not win a round on Saturday."
Of course, these are similar words to those uttered by Paul ahead of their first matchup — so time will tell if the former welterweight champion's pre-fight predictions come true this time around.
Comments
comments