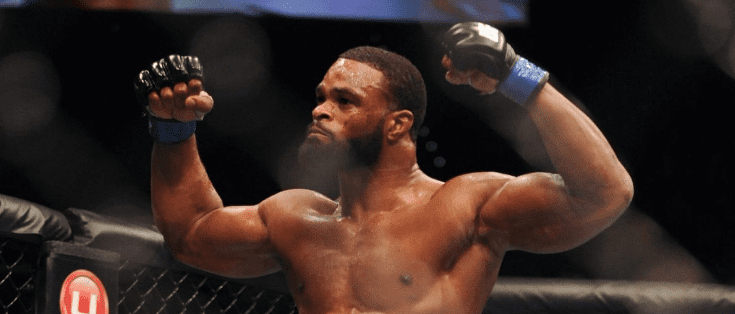 Tyron Woodley is — not for the first time — unhappy with Colby Covington's behaviour.
Until late last week, it had seemed a foregone conclusion that the pair would meet for Woodley's UFC welterweight championship in a contest laced with personal beef. While Covington, an interim champion, has long made it clear he wants to fight Woodley for the undisputed title, it appears the controversial Oregonian is not ready to compete at UFC 228 — a date the UFC would like the book the bout for.
Because of that, the promotion has begun asking other welterweights, such as Englishman Darren Till, to meet Woodley on September 8 instead. According to Woodley, it's all down to Covington attempting to put off the contest until he knows he can make as much money as possible.
"Colby Covington talked all this shit about wanting to fight me," Woodley said, speaking on the Ariel Helwani MMA Show. "Built this whole fake, false, extensive, 'I'm this big macho man'. But when it came down to him winning the boo-boo belt, I said let's get it on. Now you wanted to fight, come and catch this fade. This motherfucker go quiet. Silent. Now he's faking a sinus injury because he don't want to fight me on a card that he might not make the money he's supposed to make.
"He figured, 'You know what? I'm supposed to take this L anyway, I know I'm not going to beat Tyron, I just wanted to get to the chanpionship fight and make this extra money'. I don't know about his contract but my gut tells me that as interim champion, he possibly is getting pay-per-view points. So he's tried to prolong the situation, prolong this ass whooping I got ready for him into a card until he can try and tuck himself underneath a Conor, a Jon [Jones] or a New Years Eve card. And I think the UFC made a call his bluff. You got sinus problems, take a damn Zyrtec.
"I think it's embarrassing, and I think every fan on Earth should call him out on it."
But even if Covington is out of the targeted event, Woodley isn't going to rule himself out of competition to cement the grudge match.
"Tyron Woodley has accepted any fight," the champion said of himself. "I will fight any welterweight. Would I like more than six weeks [notice]? Yeah. But if it comes down to the point where I got to go into that Octagon and fight, I've been in there once or twice before. I think I'll get it done. That's where it's at."
And as for Covington?
"You should be embarrassed," Woodley said.
Comments
comments