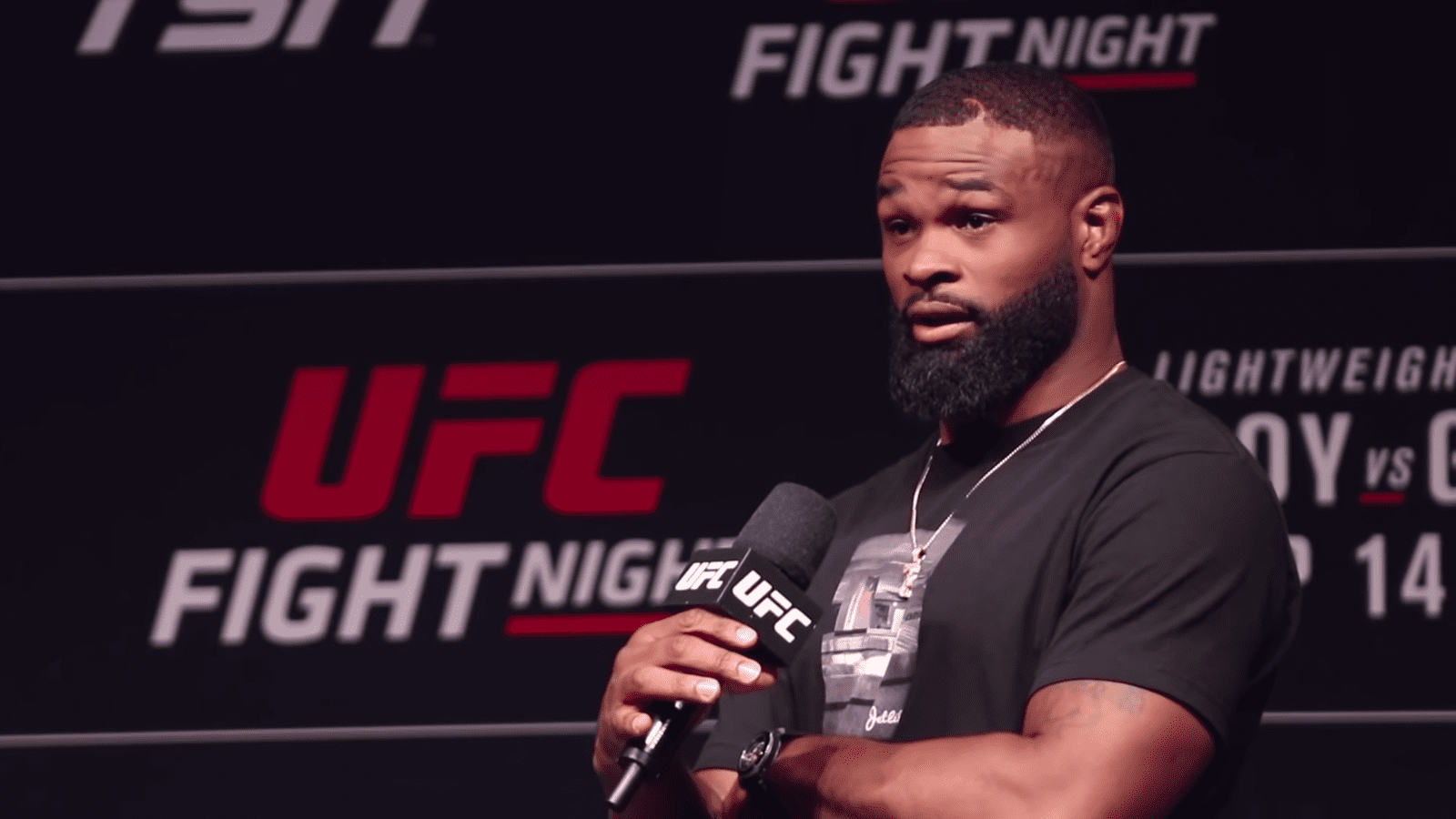 Former UFC welterweight champion Tyron Woodley has faced some pretty stiff competition throughout his veteran career but they would all pale in comparison to what might come next, after he admitted that a proposed matchup with heated rival Colby Covington would be right up there with any world title bout he has competed in. 
Woodley is currently in the midst of a two-fight skid, having lost successive bouts to champion Kamaru Usman and the (current) top welterweight contender in Gilbert Burns and a third defeat would make it an almost impossible task to return to title contention at his age (38), but the former champ appears to be of the opinion that fighting Covington is a personal issue and any impact on the rankings in purely secondary.
"This is a big fight for me," Woodley said to former UFC fighter Mike Swick's podcast, via MMA Fighting. "This is probably the biggest fight of my career to be honest. Because the situation, it's bragging rights. He's talked all this sh*t, but in my mind, he really knows what time it is but now because he has talked that much sh*t, he's got to try to live up to it. He's got to try to beat me. He's been calling me out for three or four years damn near. So now it's to the point where it's personal and the other fights didn't really mean as much."
View this post on Instagram
Woodley continues, saying any past issues with former opponents like Usman or Burns pale in comparison to those he has with Covington — a man who has been calling Woodley out for years and, if reports are to be believed, has turned down the opportunity on more than one occasion.
"I feel like Usman and Gilbert are kind of goofy and I really didn't feel no animosity towards them. But I feel that with Colby," he explained. "Some of the other guys I felt the urgency because of how good they were, Carlos Condit and Robbie Lawler, those guys are the OG's. "The Natural Born Killer," "Ruthless," "Gorilla" [Darren Till], all these monstrous fighters that I got to bring it to them cause they sure as f**k going to bring it to me. I think Colby's going to bring me that, the first time I get the opponent at the press conference, we probably just going to break the internet to be honest."
'The Chosen One' continues, saying that a win against Covington would go a long way to helping bypass the disappointment of his last two performances, both for himself and for fans.
"There's enough people that want me to hurt him so bad that if I do it, now I'm a hero," Woodley said. "We're not even talking about losing two fights in a row. We're talking about the kid that finally took care of Colby Covington. Usman really didn't take care of him. He won but had he not dropped him twice, Usman probably would have lost that fight."
Between now and the moment that the two men walk to the cage, Woodley knows there will be some back and forth in the media — a lot of which will come from the notoriously brash Covington.
"He's gonna try to use everything in mental warfare," Woodley said. "He's going to try to be racist, he's going to try to talk about stuff from my personal life, he's gonna bluff and make up sh*t about the gym. He's going to ask all these doggone questions cause he was in St. Louis with me so anything he can turn into something he's going to do that. Guess what? I'm going to match him and make him look stupid."
Comments
comments