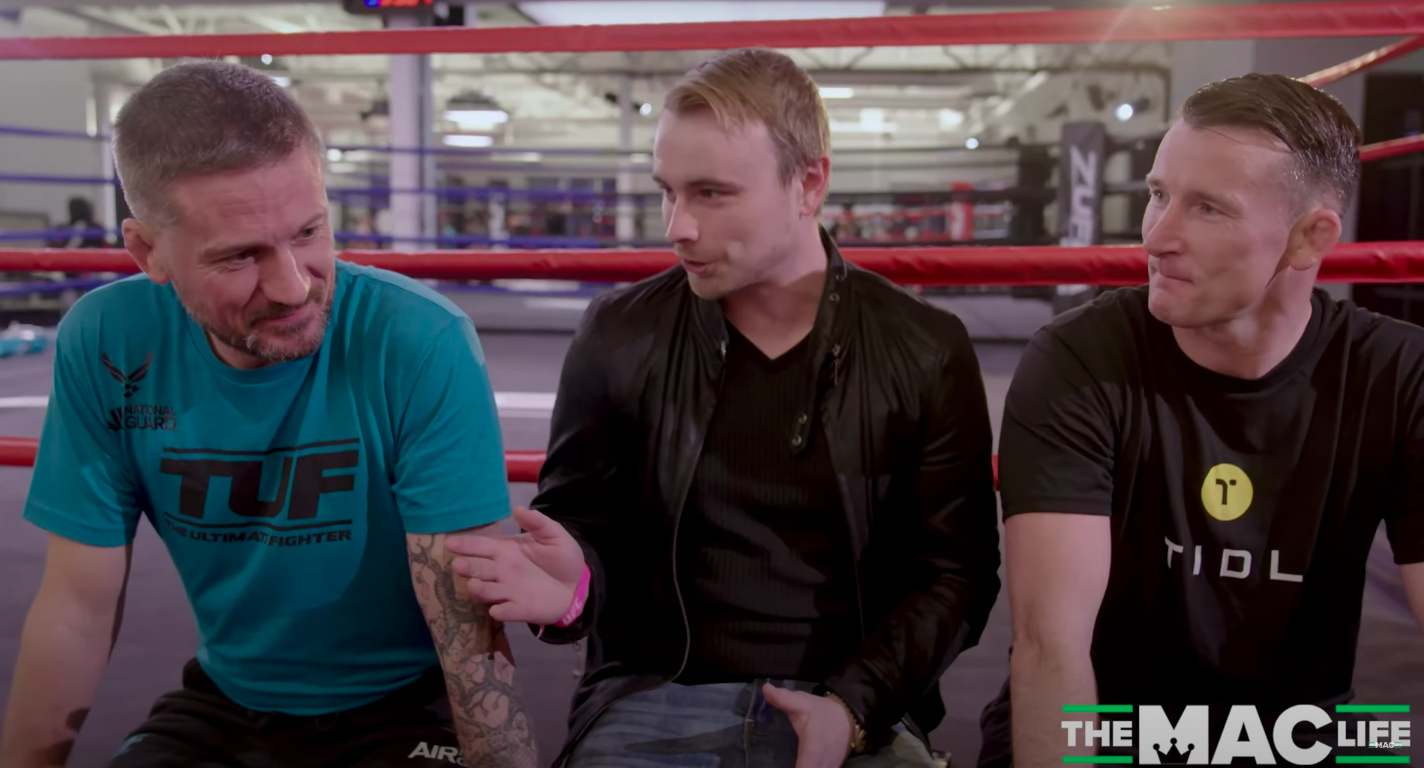 Conor McGregor has a particular flair for the dramatic and this will be in full view in the 31st season of the UFC's long-running reality TV series 'The Ultimate Fighter', according to the Dubliner's longtime coaches John Kavanagh and Owen Roddy.
McGregor and former Bellator champ Chandler are currently in Las Vegas filming the television show which is due to begin being broadcast on ESPN in the United States in May, ahead of a pay-per-view fight later this year which will represent McGregor's return to active competition a little over two years after suffering a serious injury to his left lower leg in his most recent contest in the Octagon.
And Owen Roddy, with whom McGregor rose on the regional scene in Ireland and on the mats at SBG, says that the few weeks spent so far filming the show has displayed that McGregor's passion for the sport remains firmly in place.
"Yeah it's great to see the passion he has," Roddy said exclusively to TheMacLife in Las Vegas on Monday. "The passion he has for fighting, you can see it in him now, he has it for coaching as well. He's trying to give the guys an insight into how he thinks, more so than — he's shown a lot of techniques, but it's his mindset. I think that's one of Conor's biggest aspects is his mindset, his ability to go in there with this belief in his ability and in his team and project that into his fighting."
McGregor, of course, has previously been in this position having coached opposite Urijah Faber on a season of 'The Ultimate Fighter' back in the summer of 2015 shortly after he won his maiden UFC world title in a fight against Chad Mendes, and John Kavanagh says that seeing McGregor imparting his knowledge to a string of fighters reminds him of the olden days, long before world titles and sold out arenas.
"For a couple years there he ran the boxing program [at SBG]," Kavanagh explained. "[He's] not much different, his classes were always extremely popular because of the amount of energy he puts into them. Whether it's teaching a bunch of beginners how to throw their first jab back in the day, to now with fairly seasoned professionals."
Very little has filtered out from the filming process so far, except for Dana White's teasing comments recently that there had been some sort of confrontation during filming — something which Roddy suggested was a product of McGregor's way of doing business.
"Whether he's got under Michael's skin, I don't even think Conor cares whether he's got under his skin," Roddy explained. "Conor just lets people know where he's coming from, and he definitely has done that, so yeah tune into the show — you'll see the chaos ensue."
"There's definitely been moments where it's got a little bit heated," added Kavanagh, "but I'll let all the amateur sports psychologists break it down in the comments for me."
Comments
comments