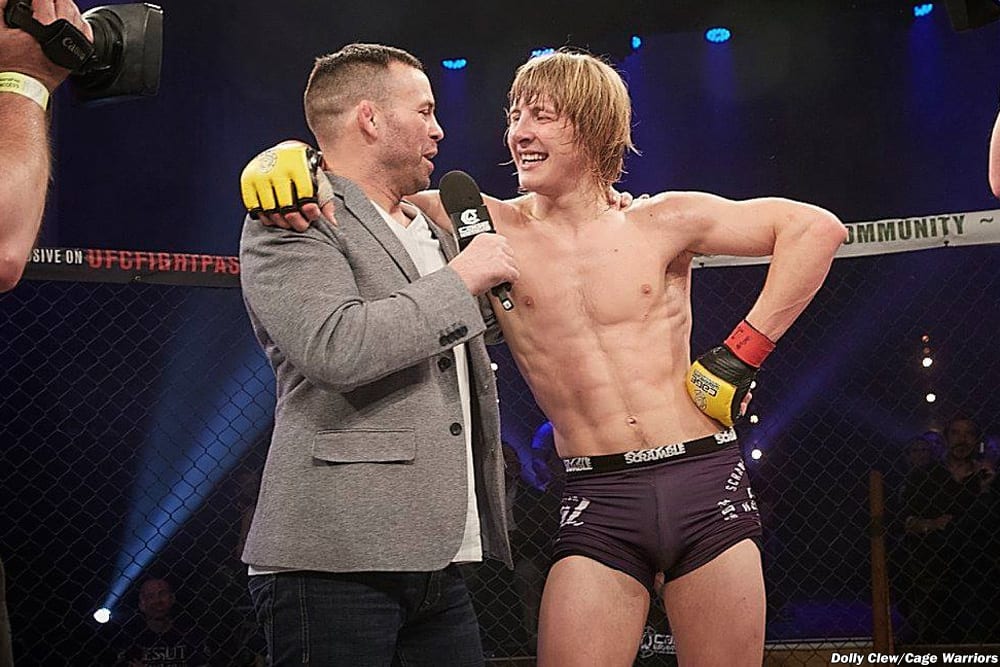 Paddy 'The Baddy' Pimblett was unsuccessful last weekend in his attempt to claim the Cage Warriors lightweight title after losing a decision to Denmark's Soren Bak last weekend, but in a statement released on Tuesday on social media Pimblett says that he still has his head held high.
Pimblett, one of the the regional UK scene's biggest stars, has already held the Cage Warriors 145-pound title and was looking to add the 155-pound belt previously held by his teammate Chris Fishgold (who has moved to the UFC).
It could have ended so differently, too. In the opening seconds Pimblett landed a beautiful trip takedown and progressed to his opponent's back and locked in a rear naked choke. With the fight appearing seconds away from getting stopped, Bak was able to fight off the choke.
From then on, Bak began to pick Pimblett apart on the feet en route to the unanimous decision win.
Far from shy away from the unsuccessful title bid, Pimblett addressed it in full on social media.
"So Saturday night I didn't get the result I wanted," Pimblett wrote.
"I could go on about the broken wrist I had to train with for 8 weeks or the toe I dislocated in camp. Those things don't matter in the end because they are excuses. At the age of 23 I have won, defended and lost a world title already. I tried again to reach my dream and I failed. In that first round I came so close to it but I didn't get there. But I tried and that's what counts.
"I will work harder and try again and again to reach my goal and that's how I'll get there. I get better every fight win or lose. You can love me or hate me, compliment or slate me as non of it matters on this journey. All that matters is I try my hardest to get there. So I can walk around with my head held high and say at least I TRIED!!!
I wanna thank everyone who came and supported me and everyone for there messages of support before and after the fight they mean a lot and massive congratulations to @sorenviking you was the better man the other night well deserved am sure we will meet again over the next 12 months hopefully I can return the favour in Denmark nothin but respect man."
Comments
comments