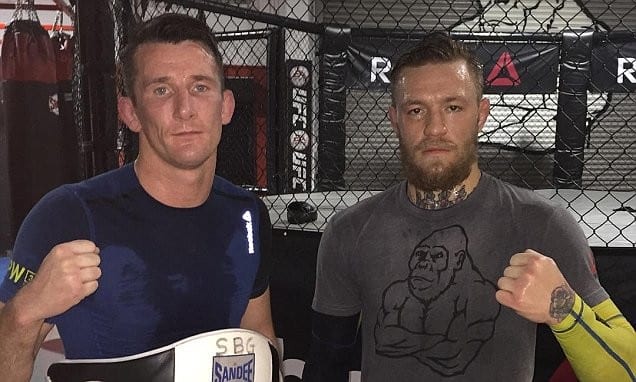 Following yesterday's news that Conor McGregor had signed a historic deal with the UFC and UFC president Dana White ahead of a potential blockbuster boxing match with Floyd Mayweather, it's fair to say fan excitement for the contest has shot up yet another level.
While there are still some hurdles to overcome — namely further negotiations with Floyd Mayweather — the fact McGregor's side of the fight has been handled appears the biggest step taken so far to make this megafight a reality.
And, according to longtime SBG coach Owen Roddy, the excitement of things being made official has put an extra pep in the step of McGregor himself.
"I was just with Conor yesterday for some training and he's just excited," Roddy said, speaking with NewsTalk's Peter Carroll. He just wants to get it on. I'm sure he's happy with whatever he has signed, but I really think he's more excited about the fight in general. To be able to do something like this unbelievable.
"Conor wants to do things that have never been done before. This is just another moment in his career where he defies all the odds and gets the job done. Since his first fight, he's always been aiming to achieve these incredible feats. This will be another one.
"Conor wants to be the best at everything. I'm here at my daughter's school for Sports Day. I'm sure if he was involved in the Daddy's egg-and-spoon race he would want to win that as well."
With news of McGregor's training being underway, fans will no doubt be wondering when the fight itself will take place, particularly in light of Dana White's comments that a targeted date for September 16 was taken by Canelo Alvarez vs. Gennady Golovkin.
According to Roddy, there are already other dates in mind, but naturally are being kept under wraps at present.
"There are some definite dates floating about, but I really can't tell you what they are," he said. "We've been told certain dates, but it will definitely be this year. Fingers crossed, once the other side gets things done everybody will be happy and then it will be another big extravaganza for fans.
"At the end of the day, when Mayweather's crew sign on the dotted line, nobody is going to care about 'Canelo' and 'GGG'. Don't get me wrong it's one of the best boxing matches that could've been made right now, but at the end of the day, McGregor versus Mayweather means so much more.
"It was a good move from them, but it could backfire as well. If Mayweather and Conor are to set a date anywhere near that, they could drown out everything."
While the promotion for the fight between Mayweather and McGregor has the potential to lead to one of the biggest spectacle in combat sports history, the contest itself remains a mystery.
McGregor's mixed martial arts ability, and how it translates to the four roped sides of the boxing ring is unknown. The effect of Mayweather's age (40), and prolonged time away from competition, is unknown. The nature of the size difference between the two, and how that could come into play, is unknown.
One thing, according to Roddy, is certain. The more time McGregor has to prepare for a specific opponent, the further the fight begins to shift in his favour.
"We're training now. The longer it takes Mayweather to sign, the better it is for us," Roddy said. "We get more time to study him the longer he drags it out. We can get people in to help us if needs be. I see the negotiation period as just more time for Conor to immerse himself in boxing.
"The longer he takes to sign, the better it is for us. To be honest, we're ready to go now."
Comments
comments