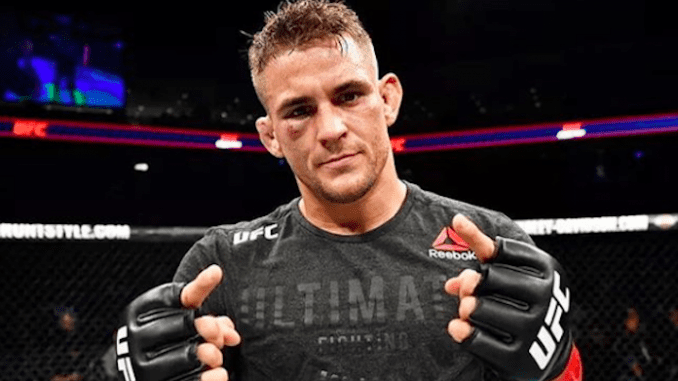 If there were any doubts as to Dustin Poirier's status towards the top of the UFC lightweight rankings, those were dismissed late Saturday night in Las Vegas.
The UFC veteran outlasted Dan Hooker through 25 outstanding minutes of action inside the UFC Apex, overcoming Hooker's blistering pace early to earn a unanimous decision mostly borne out of his impact in the latter rounds of the fight. For Poirier, it was a fitting riposte to losing his lightweight title shot last September against Khabib Nurmagomedov, and underscores his position as a viable contender in the future.
But it could have been better, he says.
"It was a tough one, man," Poirier said immediately after the fight. "Dan came to fight. He's a tough guy. He's on the rise and really thought he was going to get passed me. He talked a lot of trash, like, he was going to move forward and fight the champ — but I'm the champ. This is what I love to do. I put all the work in. I trust in my team, skill, and work ethic. I came here, pulled another one out, and had a few more rounds in me."
View this post on Instagram
The fight is being hailed as a surefire contender for the 2020 Fight of the Year (just days after another one in Shane Burgos vs. Josh Emmett) but even despite the plaudits coming his way for his performance, Poirier suggests that the fight was a little too close for comfort.
"I could have been a little bit sharper," Poirier said. "I didn't move out of the way of a few shots. It's not that I disrespected Dan's power, but I stayed in the pocket too long. I should have been sharper. At the end, I started getting in my range and countering off his lazy shots. I landed some good ones and made his head snap back. I was stealing the rounds with shots like that, but I can do better."
Poirier, whose charity work earned him a spot in the UFC Hall of Fame prior to the fight, will await what comes next. A fight with Tony Ferguson seems to make sense to most on paper, but for now he says that it is time to ground himself.
"Maybe I'll fight at the end of the year," Poirier said. "Maybe I'll fight next year. I just want to go home to my daughter. I'm a winner and it was a long time off. It was the longest break in my career. I had to take nine months off and sit on the sidelines. I had to overcome some stuff.
"Now that I'm a victor again, I want to get back to the drawing board. I want to keep getting better. I want to stay in love with this sport. I don't want to push myself so much to where I hate this. I've been doing this a long time and pushing myself to the limits every day. So I just want to do it right."
Comments
comments