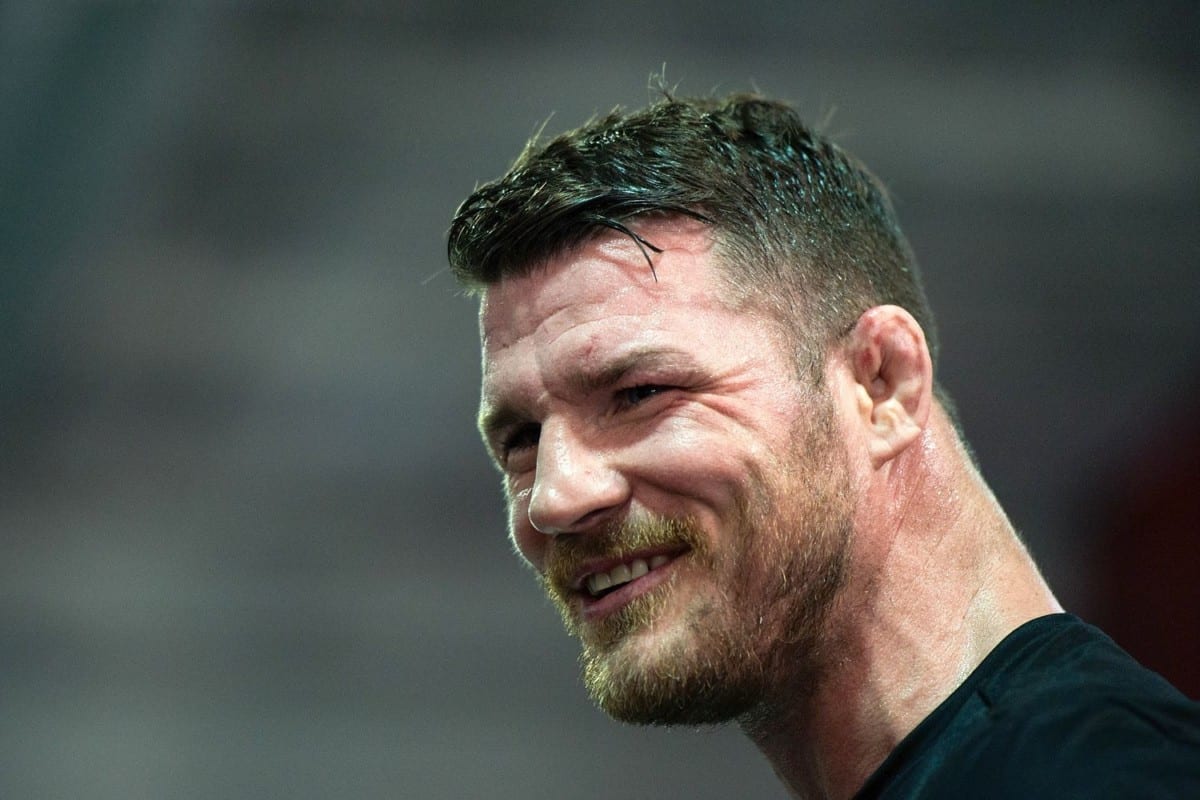 As usual, whenever a decorated fighter calls time on their career, there comes an opportunity to reflect on the best and brightest moments of their time in the sport. 
With Michael Bisping, it's almost impossible to describe in brief quite what he means to mixed martial arts, but with the Brit announcing yesterday he was done as an active fighter, it seems only appropriate to examine the top moments of the controversial middleweight's career.
So without further ado, check out the top five moments/parts of Michael 'The Count' Bisping.
5. General shit talking
Okay, admittedly we're not starting off with an exact moment here, but Bisping's trash talk has been a re-occurring topic throughout the decade he's been in the sport. It seems whomever he's been scheduled against, the Brit finds a way to tease and poke the opponent throughout any build up. Even with someone as polite as Georges St-Pierre, Bisping made things awkward by showing up to their first press conference a little worse for wear after a night in Las Vegas.
4. Michael Bisping vs. Dan Henderson II
This one might be a little controversial.
After defeating Luke Rockhold for the world title (more on that later), Bisping found himself in a rematch with old foe Dan Henderson. While a portion of the fans felt the new champion was defending the belt against a less than worthy contender, it made all the sense in the world for Bisping.
Years prior, Henderson had handed Bisping his most devastating loss. The right hand knockout — followed by a leaping punch — that Henderson hit back at UFC 100 has followed Bisping around ever since that night in 2009. So when UFC 204 came around in Manchester for his first title defence, Bisping was right to take it. To then survive two of the exact same punches he suffered at UFC 100, only comeback to win, was just the icing on the cake.
3. UFC 199 Post-Fight Press Conference
If you wanted to point to a single moment in Bisping's career that was just quintessentially Bisping, it's the UFC 199 post-fight press conference.
Minutes after knocking out Luke Rockhold to finally win the world title, Bisping swaggered in front of the media with a huge grin and wasted absolutely no time in taunting Rockhold with the newly won gold belt. After all, who says the trash talk needs to be left in the cage?
2. Defeating Anderson Silva in London
For years, Bisping and Anderson Silva seemed destined to never meet in the cage. As Silva ran wild at 185-pounds, Bisping tried and failed to get past near contender status, falling short against Henderson, Vitor Belfort and Chael Sonnen in number one contender bouts.
Finally, after Silva dropped the title to Chris Weidman, he and Bisping were paired up in a main event in London. It's the perfect summary of Bisping's fighting career in just twenty five minutes. Bloodied, battered — and at one point basically unconscious — Bisping persevered and fought his way back against one of the greatest of all time to win.
1. Winning the World Title.
It wasn't going to be anything else was it? When Bisping was called up to face old rival and world champion Luke Rockhold on seventeen days notice, it seemed a cruel irony that his first title shot would finally come with such odds stacked against him.
Even during the initial stages of the contest, Rockhold looked more than comfortable, walking Bisping down and landing some of his patented left kicks to the Brit's midsection. Then, it happened. The over-confident Rockhold left his right hand down and Bisping landed a beautiful left hook that sent him flying to the canvas.
A follow up later, and there was a new world champion.
As UFC commentator Joe Rogan said seconds later:
"That's why this is a crazy sport ladies and gentlemen. Because anything can happen at any given moment, and at any given moment you're sitting at home watching this and you just go holy shit."
Cheers for a great career, Michael Bisping.
Comments
comments