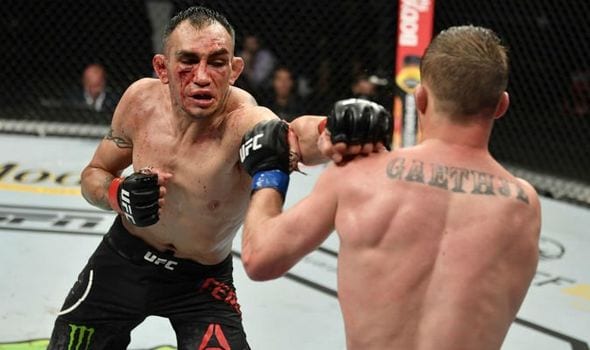 After what was his fourth defeat on the bounce in his last outing against Michael Chandler, Tony Ferguson says he intends on making some changes to his training — but it won't involve taking up Charles Oliveira's invite to work with him in Brazil. 
Ferguson is the only fighter to have seen the final bell throughout Oliveira's ongoing 11-fight win streak which recently saw him lose the world title on the scales only to submit Justin Gaethje before the end of the first round in this month's UFC 274 headliner, but 'El Cucuy' says that he still sees Oliveira as a future opponent and wouldn't accept any invitation to training alongside him, for now at least.
"I have to really reflect on what he said, because Chute Boxe is a very good school," Ferguson told MMA Junkie. "But he is in my weight class. I'm one of the only fighters that he hasn't finished, and I went into that fight practicing zero jiu-jitsu. I didn't do too bad. I didn't do as bad as Dustin Poirier just sitting there laying there. I stayed active and I went for submissions everywhere. It's not like I practiced really hard.
"I've got to really think about that one, because I see myself competing against him again. No animosity, but I went back there and talked to him before the weigh-in face-offs. I told him, he was signing posting, and I walked up to him, put my hand on his shoulder and I said, 'Hey, kid. You stay focused, all right?' He turned around and he looked at me and he knows already.
"Like I told him inside that octagon, I put my arm around his shoulder and said, 'Walk with me.' I'm a good scout when it comes to certain things. … I know exactly what I have to do and I can't really say no to it or yes to it. But I know right now that it's not the time for me to go to Chute Boxe and to train with them. There's some local gyms out that I'm going to be part of a team and help that team grow as well as myself."
Furthermore, Ferguson says the defeat to Chandler made him reflect on his career — and brought him to the conclusion that he still has what it takes to compete at the top level, even if he did lose his last fight fair and square.
"When I take a loss that I know I lose, I don't argue with it," Ferguson stated. "I really don't argue with it. But what I do is take the good things that I've taken with it and the good parts that I have learned. One, I'm more flexible than I think. Two, my mentality is strong and my will to win is f*cking there. I just have to put the structure behind it and I have to put the coaching and the technique. I have all the tools to win and to be able to get that belt."
Comments
comments