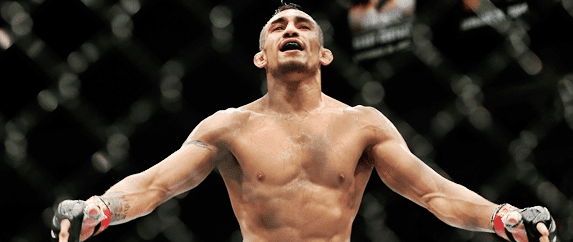 Tony Ferguson's UFC 209 experience just keeps getting worse.
After opponent Khabib Nurmagomedov pulled out of the contest via 'weight management issues', Ferguson was left with a terrible choice — take a non-title fight against Michael Johnson for less pay, or let all those weeks of training be wasted.
In the end, Ferguson decided that it wasn't fair or worth it to take the pay cut and fight Johnson on the card, instead agreeing with the UFC that he would still be paid for his time. Ferguson's agreed show money for the bout with Khabib was $250,000.
Ferguson says he's been paid "less than half" that.
"It was like a slap to the face," Ferguson said, speaking with MMAJunkie. "My training expenses were a lot larger than any other fight I've ever done because this was supposed to be the biggest fight of my career. So now I'm sitting here, and it's like, what is my worth to the UFC? Like, do I not fight enough? Do I not bleed enough for them? It's going through my head right now, because I didn't lose.
"I did everything in my power that I could to show up on that scale, and that's what I thought we were going to do. That's why you call it show money. And to every fan that's out there in the world, Dana [White], he said they cut me out a check, and I didn't get a check, and then this morning I got my wire, and I'm looking at it and I'm like, 'What the frick, man?' I'm like, 'Seriously?'"
Ferguson's pay had actually been brought up by media once news of Nurmagomedov's withdrawal had broken. At a post-fight press conference following the event on Saturday fight, media members asked Dana White if Ferguson would be paid his show money for the trouble.
In spite of UFC (and Bellator for that matter) officials often stating that if a fighter makes weight, they get paid their show money, White stated "we've never done that" before clarifying that Ferguson "got paid. He did get paid. Yeah, he did."
According to Ferguson, the figure he has received from the UFC does not reflect the assurances he was given over the weekend. The entire affair feels particularly egregious due to the fact that the UFC had already allocated $250,000 for Ferguson to be paid. The fact his opponent pulled out did not suddenly remove that money from the events budgeting plans.
"I'm not taking a pay cut," Ferguson said. "Why would I want to take a pay cut? If you give me what I originally showed up for, [expletive] yeah, I'll give you a badass fight. We'll save this card.
"[Dana] said: 'we budget for these fights.' Those are his exact words. So then you had it, but you don't want to fork it over. That's like, all right … How am I supposed to like the company I work for if I'm short-changing me? He was telling me he was taking a loss from this, and I'll bet you he's somewhere out on his boat, or doing something on his jet, laying $250,000 down on a craps table."
Comments
comments