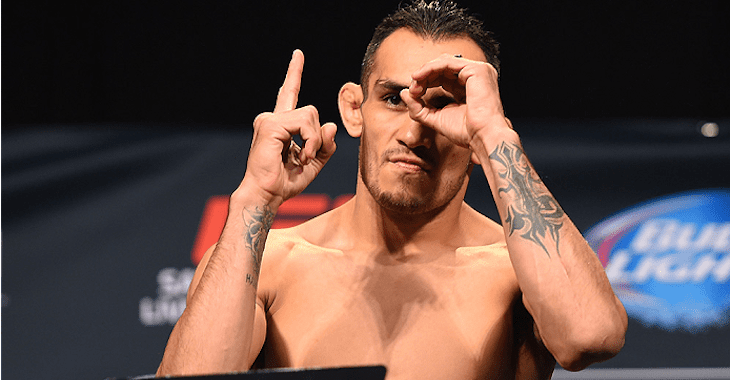 Tony Ferguson, the UFC lightweight contender, has been out of action since injuring his knee by tripping over a cable at a UFC media event earlier this year, says that his octagon return is near — and that he will be competing on the UFC 229 card to be headlined by Conor McGregor and Khabib Nurmagomedov.
Ferguson, who has been booked to face Khabib on four separate occasions without the fight coming to pass, last competed in October of last year where he earned a controversial submission win against Kevin Lee at UFC 216.
Writing on social media in his the odd capitalised manner which is his wont, Ferguson said teased that he will be part of the October 6 card in Las Vegas and that he is waiting for his opponent to sign the bout agreement.
Speculation has suggested that former lightweight champion Anthony Pettis, who submitted Chiesa at UFC 226 in July, is being lined up to face Ferguson.
"I'm Not Weird I'm Limited Edition" My Collaboration w/ @Topps 🇺🇸🏆🇲🇽 Now All We Need Is Some Bubblegum To Go With This Asswhoopin' I'm 'Bout To Dish At #ufc229 Waiting On Opponent, Probly Callin' Pterodactyls After Finding Out Who He's Fighting Next, I Owe Him One. 👊🕶 pic.twitter.com/fz6fiTAoqY

— Tony Ferguson (@TonyFergusonXT) August 20, 2018
–
Comments
comments