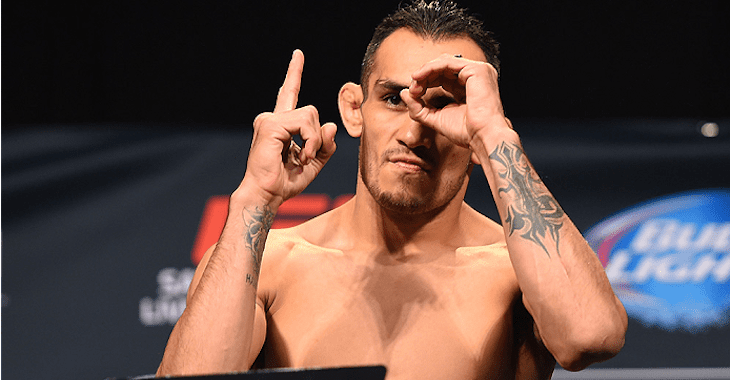 Tony Ferguson appears to be at least open to the idea of fighting Justin Gaethje on April 18.
The former UFC interim lightweight champion has been left without an opponent after champion Khabib Nurmagomedov released a statement that suggested he would not be comfortable with competing as the coronavirus pandemic continues.
For Ferguson, it's an awful position to be in, as he once again misses out on the biggest contest of his life. In Ferguson's eyes, Nurmagomedov made the active choice to fly home to Russia and put the bout at risk, and therefore Ferguson believes he should be considered the UFC champion and not Khabib.
As for meeting Gaethje in the Octagon, clearly negotiations need to take place, but in what will be music to UFC president Dana White's ears, he's at least ready to have those get started.
"[Gaethje's] got a 4-2 record, man, he's got half," Ferguson said, speaking to Ariel Helwani of ESPN. "When all these things happened, when they stripped me of my belt, remember I said it was like a round-robin tournament, I had to fight everybody. I fought everybody that was in the top five. I knocked them out, or I finished them in great fashion, and here we go, we're back in the same spot.
"It's like the UFC are trying to play keep-away with me. Nothing against the UFC or Dana, I know they gotta make their money, but I'm the fucking champ. … It doesn't matter who we have, we're going to try and make this thing go so at least some of the people in the world have a little bit of hope.
"Because the guys that are really doing it are the doctors and the nurses, the people taking care of everybody. If we can do our little bit of part to try and make something happen, I'm down for that … if we can do something to try and help it, I'm down for it."
There is, however, at least one condition Ferguson wants to have settled before talks can proceed.
"I'm good to go but as long as everything else makes sense," Ferguson said. "We can make this fight happen. We don't know where the location is at. I'm not gonna say yes or no to an opponent unless we have a location. If we don't have a location, how do you expect me to prepare? I don't need 24 hours, give me a couple of hours so we can figure out what we gotta do, so I can talk to my team, and then we can go from there.
"… The one thing I know is, I'm going to stay consistent with my training. And it doesn't matter what location — you could drop me off on Khabib's front doorstep, and that dude would still not fight. … Its defend or vacate, that dude needs to be stripped."
Comments
comments