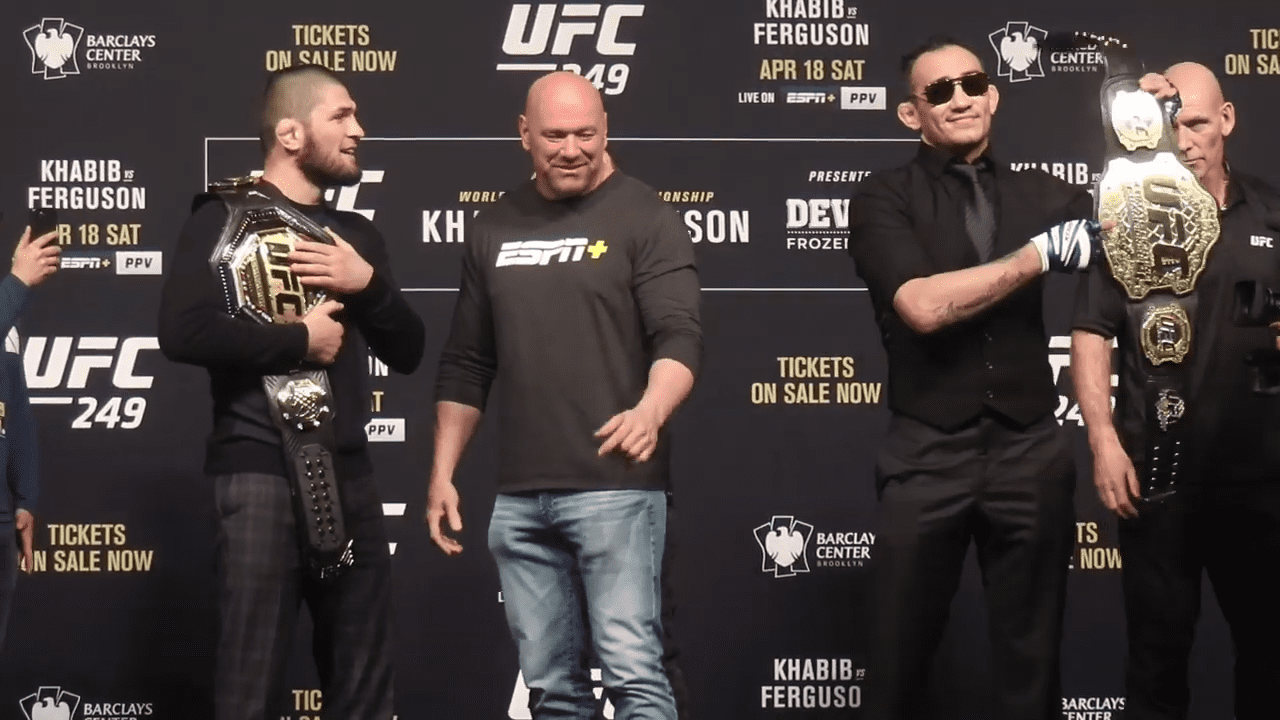 Tony Ferguson believes Khabib Nurmagomedov knew flying to Russia would scupper UFC 249 plans, and thinks that should make the UFC take Nurmagomedov's title.
Speaking to ESPN's Ariel Helwani on ESPN's Sportscenter earlier, the UFC lightweight contender and former interim champion reacted to Nurmagomedov's apparent withdrawal from UFC 249 with calm disappointment.
"Obviously I was very upset," Ferguson said. "I feel more for everyone else that's actually going through some hard times. It's a little bit different. I'm of course a little bit pissed, he had the opportunity to stay here or he was in Abu Dhabi he had the chance to come back before the borders were closed in Russia. He decided to go back to Dagestan, and not finish his camp.
"The guy does not want to fight. He's scared. He's running. He should be stripped of his title."
"The guy does not want to fight. He's scared, he's running, he should be stripped of his title."@TonyFergusonXT gives @arielhelwani his reaction to Khabib's apparent withdrawal from #UFC249 on @SportsCenter pic.twitter.com/B1Sx2gPQq6

— ESPN MMA (@espnmma) April 1, 2020
Ferguson's next move remains uncertain.
While it's likely UFC president Dana White would like to book Ferguson against an alternative opponent — reports of Justin Gaethje having been offered the bout have circulated over the past few days — Ferguson is in a position where, once again, the most anticipated fight of his career has been scrapped.
"I'm always down to fight anybody, any time, anywhere," Ferguson said. "Unless the circumstances are completely different. The fight's against Khabib, man. This is the guy, everybody wants this fight so if he wants this fight… I get what he wanted to do, obviously, he's here, his family's back home in Dagestan, it's what you gotta do.
"But he had the opportunity and he did the exact same thing at UFC 209. He knew that he wasn't cutting weight very well. He said it already he was already having a hard time cutting weight, focusing and doing everything else like that. To me, that right there, he's running away.
"He ran away, he obviously knew what he could do to help save this card. He didn't want to take any of those chances. Everybody's taking risks trying to do this stuff, but he bailed out, man. It's pretty hard to explain, but he bailed out, man."
UFC 249 is still scheduled to take place on April 18. The location is as yet unannounced.
Comments
comments