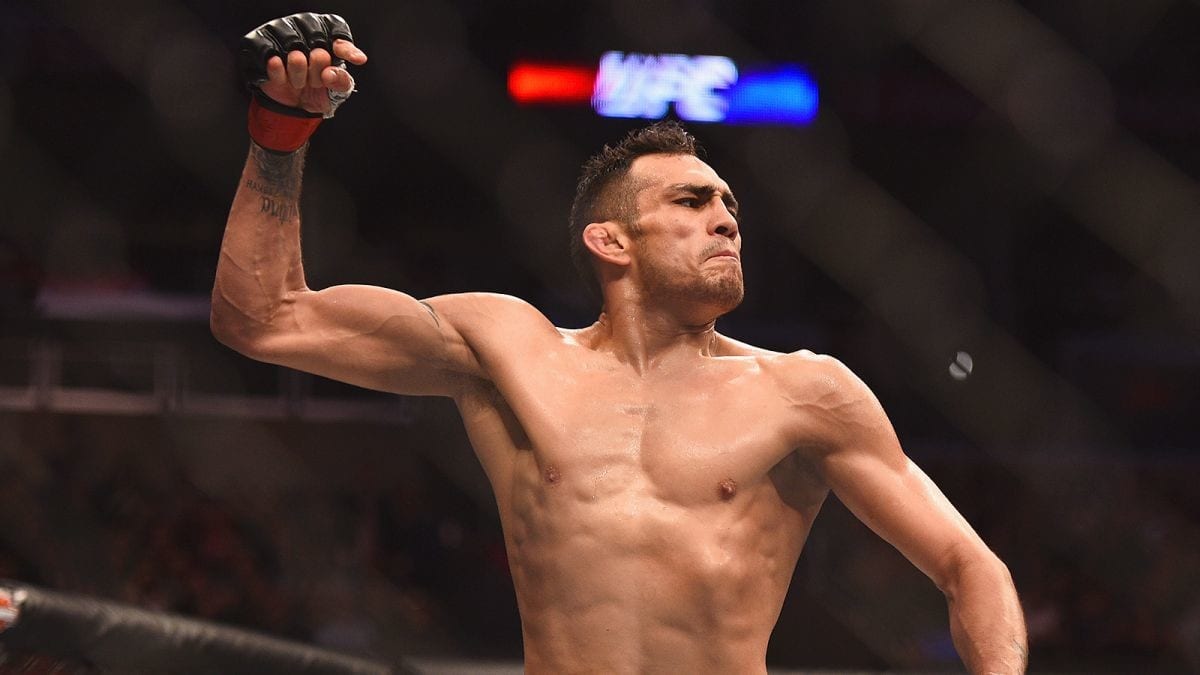 When the bout between Tony Ferguson and Khabib Nurmagomedov was finally signed to take place at UFC 209, many fans collectively breathed a sigh of relief.
With the two unarguably top contenders in the lightweight division, it seemed a simple fix to have them face off, particularly with Conor McGregor's decision to take a short break ahead of his impending fatherhood.
But, while fans may have felt it was a no brainer, Ferguson himself wasn't necessarily willing to play ball, unless of course, he was compensated fairly.
Thankfully, he was.
"[The UFC] met my standards," Ferguson said, speaking on MMAjunkie Radio. "Khabib's offer I threw right out the window immediately. That was some trashy kind of thing. But we're good to good. We're full swing ahead.
"I don't need anybody to believe in me besides myself, because every single day I go in there and I beat myself up that was so I can go out there and I can kick some ass. I know what I'm worth and I know my numbers, and that dude's padded record is nowhere near my contention, my type of fights that I've had and presented to the world."
The contest could well be a spectacular one.
Nurmagomedov, unbeaten in mixed martial arts, is cited as being one of the most effective grapplers in the sport today. Ferguson on the other hand, continues to showcase an increasingly flashy and unpredictable striking style. Together, it promises to be a fascinating clash.
"This dude has never wrestled with a California grizzly," Ferguson said. "I'm going to come at this dude hard. I don't know what kind of bears they have in Dagestan. I've said it before: I don't care how many steaks your parents put around your neck to get the animals to play with you. I've been roughing it since I was little. This is a hype train I'm going to love to derail.
"I'm a whole completely different animal, and he's never seen anyone as ferocious as me inside that octagon. I'm going to put fear in this kid. I can't wait to slam this dude. I can't wait to mop the map with this guy."
The harsh words come from a real place. The two have an embittered past with each other, this being their third time scheduled to fight. Now though, their war of words has reached new heights.
@TonyFergusonXT shut up and train

— khabib nurmagomedov (@TeamKhabib) January 16, 2017
"He's telling me to go train and shut up?" Ferguson said. "I'm like, 'Man, you talk too much already, son. You talk too much. You are looking at me and you responded in like 2.2 minutes, son. You're worse than a stalker ex-girlfriend. You're looking at me like a hawk, an eagle and I want you to do that because you're going to be stressing about what I'm going to do.
"The pressure I'm going to use, I'm going to put so much pressure on you[…]. I hope that you guys make it. I'm praying that we both make it to this fight, and we can sell this shit out and put T-Mobile [arena] on the map again. I'm hyped. We might be co-main event, but I bet you the numbers are going to be better on ours. I can't wait to play punch-face."
Comments
comments