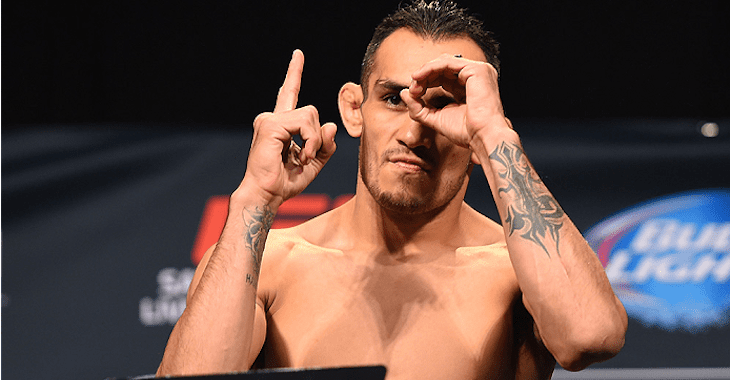 UFC lightweight contender Tony Ferguson has had trouble lining up fights lately. 
The Californian has three times been scheduled to face fellow contender Khabib Nurmagomedov and three times the fight has been canned. The most recent of which was set for last March, where the undefeated Russian fighter was forced to withdraw on the eleventh hour following severe medical reactions to his weight cut to 155-pounds.
Given his status as a top contender at lightweight (Ferguson has won 9 straight), it is perhaps surprising to consider that he has fought just three times since late 2015 — submission wins over Edson Barboza and Lando Vannata as well as a decision over former champion Rafael Dos Anjos. The will-they won't-they scenario surrounding a potential fighter with Nurmagomedov remains, though it's thought that he would prefer a post-summer return to the cage.
So what next for Tony Ferguson? He has touted the idea of a bout with Nate Diaz (who doesn't seem one bit keen) but if that doesn't come to pass, who else? If Al Iaquinta gets his way, it'll be him.
Speaking on a recent edition of The MMA Hour, Iaquinta threw down a gauntlet to Ferguson but, on a subsequent episode, Ferguson responded by saying that he isn't willing "to go backwards" in his fight career, implying that Iaquinta has a long way to go before being considered for a top contender bout.
Via MMAFighting, Ferguson said: "He's trying to promote himself, trying to make it big. You've never heard this dude, not one time, call my name out. I've never called his name out. So obviously somebody got to him. So regardless, if he wants to fight, I'm not going to back down from a fight, but I already offered somebody a fight (Nate Diaz) and I'm not trying to go backwards. I'm moving forwards. I'm a champ. I'm a superstar. And I move like a superstar in that Octagon, and I expect somebody to move like that when they signed that dotted line with me.
"Don't give me an easy fight," Ferguson continued. "I want somebody that's worth it, that's put in their time and put in the amount of effort. It's not just about knockouts, son. This is mixed martial arts. It's about finishing people. It's about putting in that time, putting in all five rounds."
It appears, as of now at least, that it won't be Nate Diaz who Ferguson faces in his next bout but with Iaquinta making noise, it remains to be seen how long Tony Ferguson is willing to sit on the sidelines.
Comments
comments