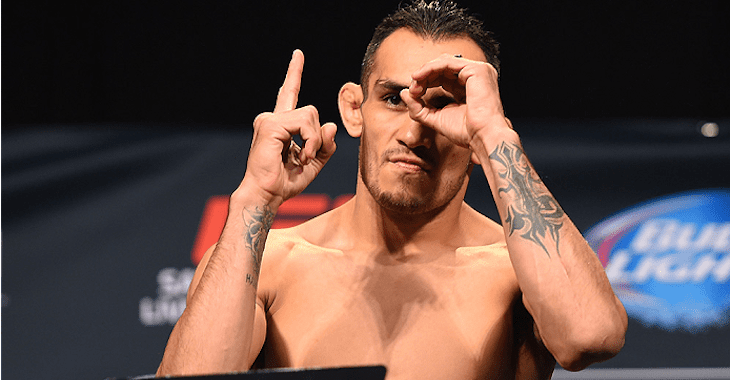 After a bout with Khabib Nurmagomedov fell apart for a third time last month on the eve of UFC 209, Tony Ferguson is still waiting on his next assignment in the UFC's lightweight division. Ferguson, who has earned performance bonuses in each of his last five fights in the octagon, has emerged as one of the 155-pound division's biggest threats in recent years but a bout with fellow top contender Nurmagomedov seems further away than ever.
"We were trying to get a fight in before Ramadan but Khabib doesn't want to fight", Ferguson said to the Las Vegas Review Journal of the devout Muslim. " He just has a lot of issues going on with his stomach. We're trying to figure out who's next but I don't want to go backwards, I want to go forward."
One name being bandied about as a potential opponent is Nate Diaz, a fighter who seems reluctant to step into the cage with anyone other than Conor McGregor. A fight with the Stockton native does interest him but Ferguson says it's time for Diaz to put up or shut up.
"I'm down for the battle of California", Ferguson said of a bout with Diaz. "He wants to represent 209. I'm from 805, in the Oxnard area, and I think obviously my hands are a lot better. I think this game is all about the glory and not all about the money. Obviously I'd like to make a piece in this industry but Nate, I think if you don't want to fight then move on a retire. Do something else, man. We're here to fight in this industry. Everyone else is taken so yeah, Nate would be the next one up."
The failed bout with Nurmagomedov was for an interim version of the UFC lightweight championship currently held by Conor McGregor but regardless of whether or not he's given another shot at an interim title, Ferguson says that it's only a matter of time before he and the Irishman lock horns.
"If Conor doesn't step up I think they'll make an interim belt. I think interim is a word they're throwing around a lot and it's going to be thrown my way. I don't think anything's going to change right now. Conor's obviously the favourite at my weight class but I don't play favourites, I knock them all out. The division is full of guys moving up and down in weight classes or going to fight in different sports. But this is a shark tank and I'm a hammerhead."
.
Comments
comments