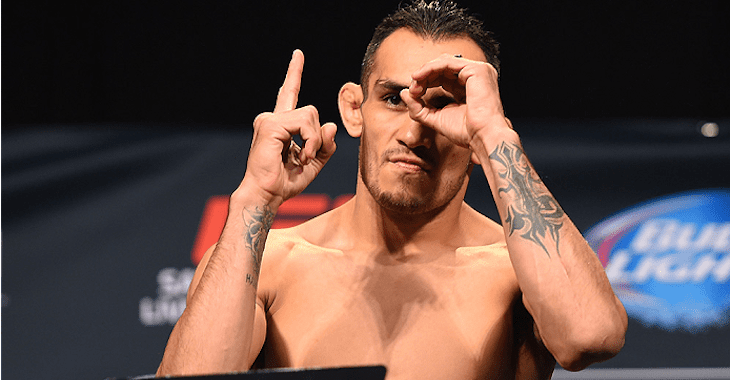 Tony Ferguson wants himself a big fight in 2017, and if Khabib Nurmagomedov isn't going to be on the other side of the marquee, then someone else will have to do.
And when it comes to the UFC lightweight division, there are few (maybe just one) bigger names than Nate Diaz. So it's hardly a surprise that Ferguson has him in his sights.
Even if he's skeptical that the younger Diaz brother will accept.
"He's all on McGregor's dick," Ferguson said, speaking on ESPN's 5ive Rounds podcast. "He's like a fucking bad ex-girlfriend. Literally, a bad taste in somebody's mouth if you win or you lose, you've gotta move on, dude. If you really want that money fight then you're probably hurting for money. Literally, if you have that money fight, you should pay your taxes and then move on. This is a fighter sport.
"You're ranked number what, eight? Ninth? Don't you want to be better than that? Shit, dude you beat is ranked higher than you. Don't you want an opportunity at the belt? Come on. I'm skipping a couple names but I'm giving you an opportunity. I'm doing you a favour, I'm not doing myself a fucking favour. I'm giving you a chance but if you don't want it, that's cool; I'll give somebody else a chance."
But, should Diaz elect to wait for the financial windfall that would be the third McGregor bout, Ferguson wants the Stockton native to explicitly say he's doing so.
"Nate, you're not the last option. If you don't want to fight, go hide in a hole. But you've got to admit on Twitter that you don't want to fight me. You're fucking scared homie. All that shit's gotta go out the fucking window. 'Don't be scared homie.' People are gonna start throwing that shit away and it's gonna be crazy.
"If [Conor] fights Mayweather and he doesn't fight again, you might not get another chance for a big money fight besides this guy. So I'm giving you a shot. If you want it, it's perfect. If you like it, sign on the dotted line."
Comments
comments