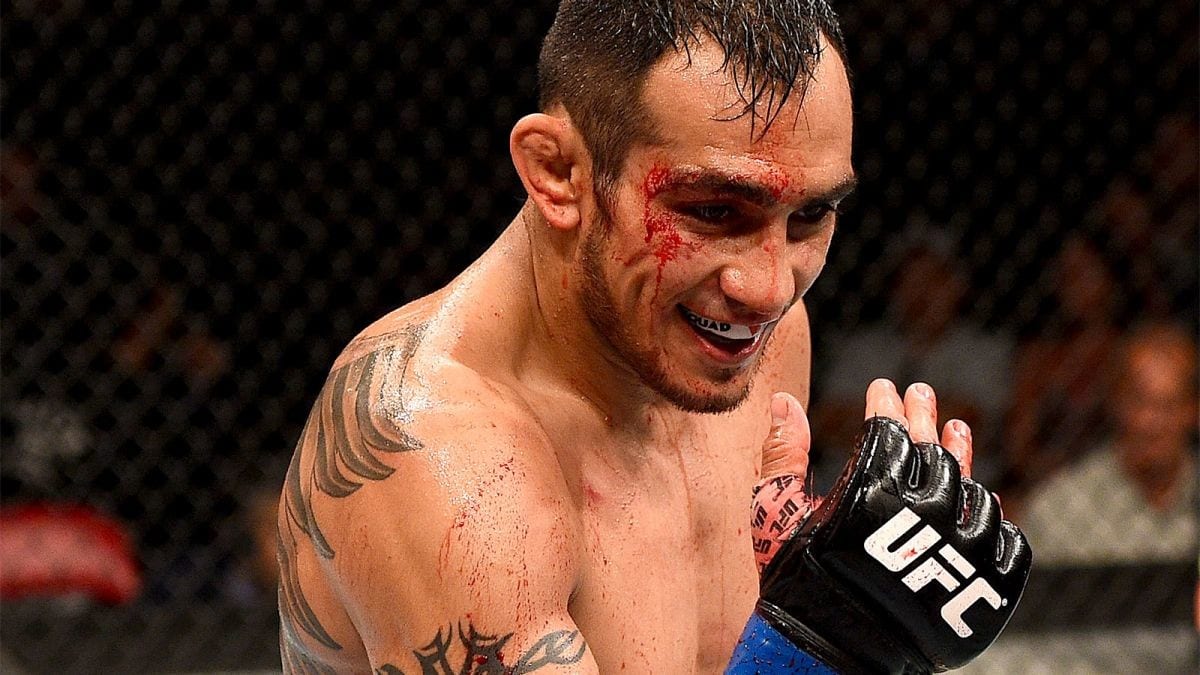 It's not often an elite level UFC fighter leaves the promotion to engage in other athletic activities while still under contract.
In fact, the occasions in which that has happened through the company's history are so few and far between, that Conor McGregor's high profile boxing match against Floyd Mayweather is a first in MMA history.
While he prepares for the contest McGregor, the UFC lightweight champion, leaves the 155-pound division awaiting for his return. In his absence, the UFC attempted to create an interim title, scheduling Tony Ferguson and Khabib Nurmagomedov to fight for the prize at UFC 209.
Unfortunately Nurmagomedov was unable to make weight, and the fight was cancelled, leaving Ferguson waiting for a contest.
Despite that, the lightweight contender has no ill feelings towards McGregor's boxing foray. Instead, Ferguson has revealed he's impressed by the Irishman's jump into a different sport.
"Conor is not going to lose anything off it because he's taking a chance in another sport, and I have to give homeboy credit, because that's cool," Ferguson said, speaking with MMAJunkie.com. "I was always a multi-sport athlete when I was younger, and this right here is dope. I would love to box. I want to go into GLORY and I want to kickbox. I don't like sitting on the sidelines. I like to stay active. I have to say that with Conor, you have to step up your boxing skills. You're messing with a lion in there. MMA is a completely different sport. You are a striker, son, not a boxer. This is boxing. You're not going to be able to go in there and strike. It's a different sport and a different animal."
Much has been made of the huge paydays attached to the Mayweather bout. Because of that, some fans and pundits are pondering whether or not we'll ever see McGregor back in the UFC Octagon.
For Ferguson, however, he has no such thoughts. Instead, he believes McGregor's competitive attitude will bring him back to mixed martial arts in the end.
"Win or lose, I think Conor is an athlete; I think he's going to have it in his head that he's not going to have to sit on the sidelines," Ferguson said. "I see it in Conor's face, I see it in his mannerisms that he's hungry, that's he's always going to want to dig to try and get the bigger, better picture. He's made that money, so maybe he's not trying to look after the money part. He wants to secure that legacy and he wants to go down in the books.
"I say if you want to go down in the books after your boxing match, come over to MMA and test it one more time. You have to test it one or two more times against top-notch competitors. People that make the weight, that show up. … Handle your business, come back to the UFC. We're all going to be sitting here waiting, watching, and make that money, do your thing and don't be scared. Come back and play that game a little bit more. I would hate to see that talent go to (expletive). You've got a lot of talent, you've got a lot of energy, and come back and use it in the 155-pound division. Let's fight over that belt, baby. Let's go."
Comments
comments