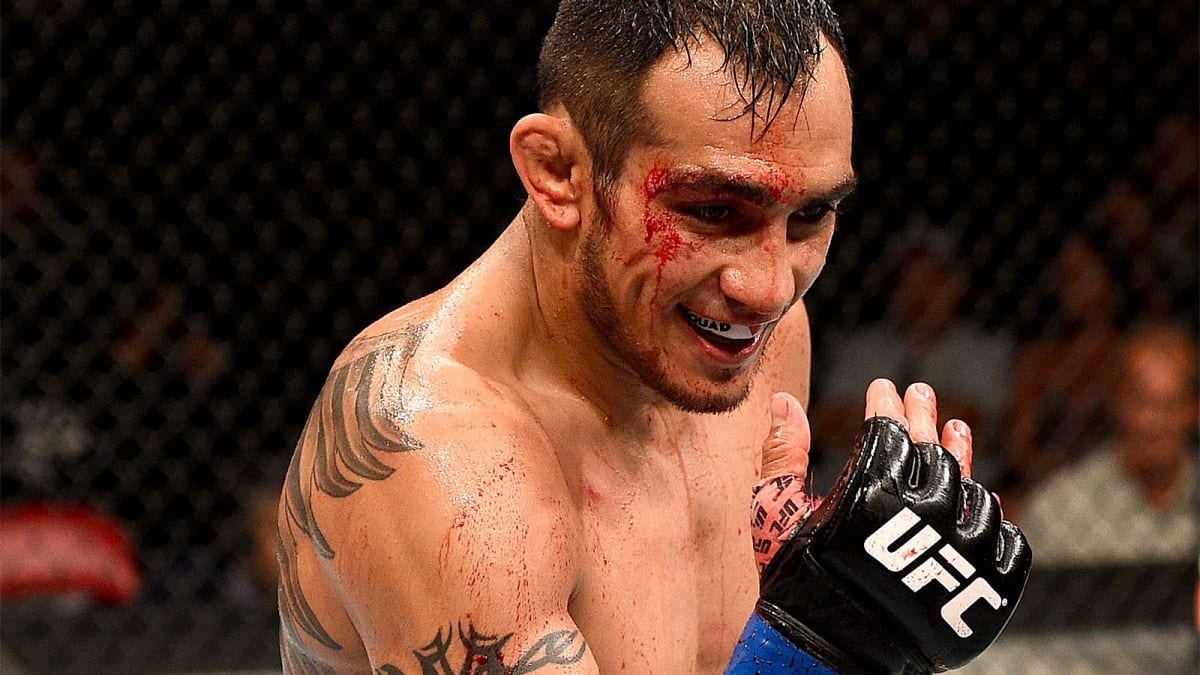 When Tony Ferguson suffered an injury a week prior to the much anticipated contest between himself and Khabib Nurmagomedov, it was understandably devastating for 'El CuCuy'.
The fourth time the bout has been scrapped, and the second in a row to happen at very late stage in proceedings, it was hugely disappointing for the entire world of mixed martial arts. For those unaware (or who chose to forget) a week before fight night, Ferguson tripped on an electric cable while engaged in media obligations for the UFC. The trip — a freak accident — ended up tearing Ferguson's knee and ruled him out of the contest.
Before that fall, Ferguson was the UFC interim lightweight champion. A week after it, he watched Nurmagomedov defeat late notice replacement Al Iaquinta to win the undisputed title, leaving Ferguson without any recognised gold around his waist. Now, Ferguson is out of surgery and rehabbing his latest setback, and right now he has two things on his mind. Firstly, a shot at Nurmagomedov, and second, clarification on his status in the UFC lightweight division.
"The doctor told me recovery time is anywhere from three to six months with this kind of procedure, but I heal quick," Ferguson said, speaking with ESPN. "Whenever Khabib's bitch ass comes back, that's when I'll be back. I'm thinking November.
"The UFC has indicated my title is gone and Khabib is the only champion at 155 pounds, but the UFC hasn't mentioned anything official to my management. As far as I'm concerned, I'm still the true 155-pound champion. I never lost my belt."
While interim titles might have lost some of their importance after becoming a more frequent occurrence in mixed d martial arts, fans might be unaware that for the fighters themselves, as soon as they own a title — interim or not — their contracts and pay are improved significantly, usually via a percentage of pay-per-view buys.
So, while he's aware the UFC have taken his belt away, Ferguson is still unsure whether that means he'll be back to the pay scale he was at before.
"That's a big middle finger to 'T-Ferg' right there. That's a kick to the groin if they do that," Ferguson said. "At the end of the day, does the UFC really like its fighters? I'm one of their toughest fighters. Don't kick me when I'm down. I missed out on pay-per-view points, my purse, a big payday; a lot of things behind the scenes. They have to either give me my title back or make sure I'm fighting under that same contract. I've earned that."
Currently, it seems most likely Nurmagomedov will face Conor McGregor later this year in what will likely be the sports biggest ever fight. If that's the case, Ferguson might once again find himself on the outside looking in. Regardless if he's facing the Russian next or not, he wants the UFC to know he shouldn't be left forgotten.
"I think the UFC is going to do what they want to do, like any other time," he said. "But it's disrespectful to me to strip my title. I should still be the interim champion. In fact, I should be the champion and Khabib should be the interim champion."
Comments
comments