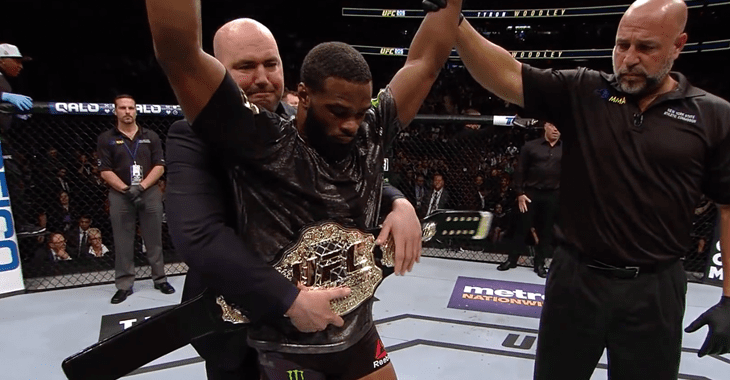 When Georges St-Pierre returned to the UFC last year to challenge then-middleweight champion Michael Bisping he maintained that his decision to return at middleweight (instead of the 170-pound division in which he competed for the majority of his career) was because he was hunting down the biggest challenge possible.
Now, with St-Pierre strongly linked with a move to 155-pounds for a clash with Nate Diaz, the champion in the welterweight division that GSP once called home is crying foul.
Tyron Woodley, who celebrates the two year anniversary as champion in July, has long campaigned for a so-called 'money fight' with the likes of St-Pierre, Nick Diaz, or any other cast of characters who are deemed to be big enough names to draw a sizeable pay-per-view audience, and he sees St-Pierre's avoidance of the welterweight division as a personal  affront.
"Let me say this in a very educated way: I think that those two guys 'contemplating' fighting is the hugest bitch move on the planet," Woodley said to TMZ as reported by BJPenn.com.
"If you're going to be welterweight champion of the world and the lineal champion and you got the current champion constantly talking about fighting you, not only do you avoid fighting him and go up a weight class, now you're gonna drop underneath him and fight underneath in a weight class that you've never fought in in your life."
It is far from certain that St-Pierre and the younger Diaz will even meet but something of a logjam currently exists in Woodley's division. The champion hasn't competed for the best part of a year and is still on the mend from shoulder surgery undertaken at the beginning of this year. Rafael Dos Anjos and Colby Covington are shortly set to compete for the division's interim title and, in less than two weeks, Stephen Thompson and Darren Till will meet in a hotly anticipated UFC Liverpool main event.
So, even if it's not the French-Canadian legend standing across from him in the cage in his next bout, one can be sure that Woodley will have a clear list of contenders waiting for him upon his return.
Comments
comments