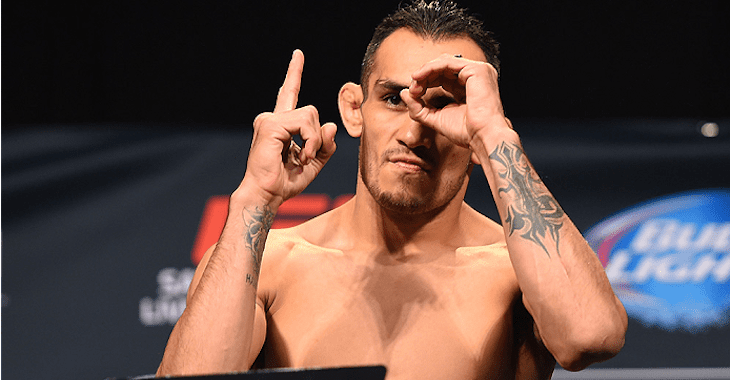 While his fight with Khabib Nurmagomedov is one of the most anticipated fights in UFC lightweight history, Tony Ferguson isn't afraid of looking forward. And, while the Nurmagomedov bout might be the biggest fight of his career, Ferguson has even bigger plans for the future.
Most people expect that, with a win next Saturday, Ferguson will move on to meet Conor McGregor in a match up to cement the 155-pound king. That fight would — particularly on the back of McGregor's boxing match with Floyd Mayweather — be one of the biggest in UFC history. According to Ferguson, however, he's not interested.
"Conor who?" Ferguson said, speaking to media today. "I mean, the guy's not in the picture. Straight up. I mean, bless his heart. He's made his money. He's doing his thing. He's got an education for his kid. That's what we all want, right?
"Conor, he's influenced a lot of fighters," Ferguson said (H/T to MMAJunkie). "That's cool, man. That's dope. But it's taken a lot of work to get there. Not just (talking). It's taken work. You had to earn it. …. With that much loot, what are you going to do now? Are you going to go back to a sport where you have to bleed? No. Take care of yourself, man. Really, go do your thing.
"If you have to hype it up, and you want to come back because that's the sport and the athlete in you – the guy that I met at Paradigm Sports when I shook his hand and I said, 'You better stay at 145 because at '55, we're going to have problems,' he's nowhere to be found. Straight up. So, if he wants to come back, that's great. But my concern is not him – it's the next person in line."
Instead, when it comes to super fights and potential bouts that could increase his bank balance substantially, Ferguson wouldn't mind a move to 170-pounds to meet UFC legend Georges St-Pierre in the cage.
"A GSP match, I mean really, he wants a money fight, but he's an athlete," Ferguson said. "We all have to pay bills. You've got to pay your taxes. … Pay attention because when you're not doing it and you're not paying attention and you're going on just fighting for money fights, you're forgetting, and (the belt) starts losing its luster. It becomes tarnished."
Comments
comments