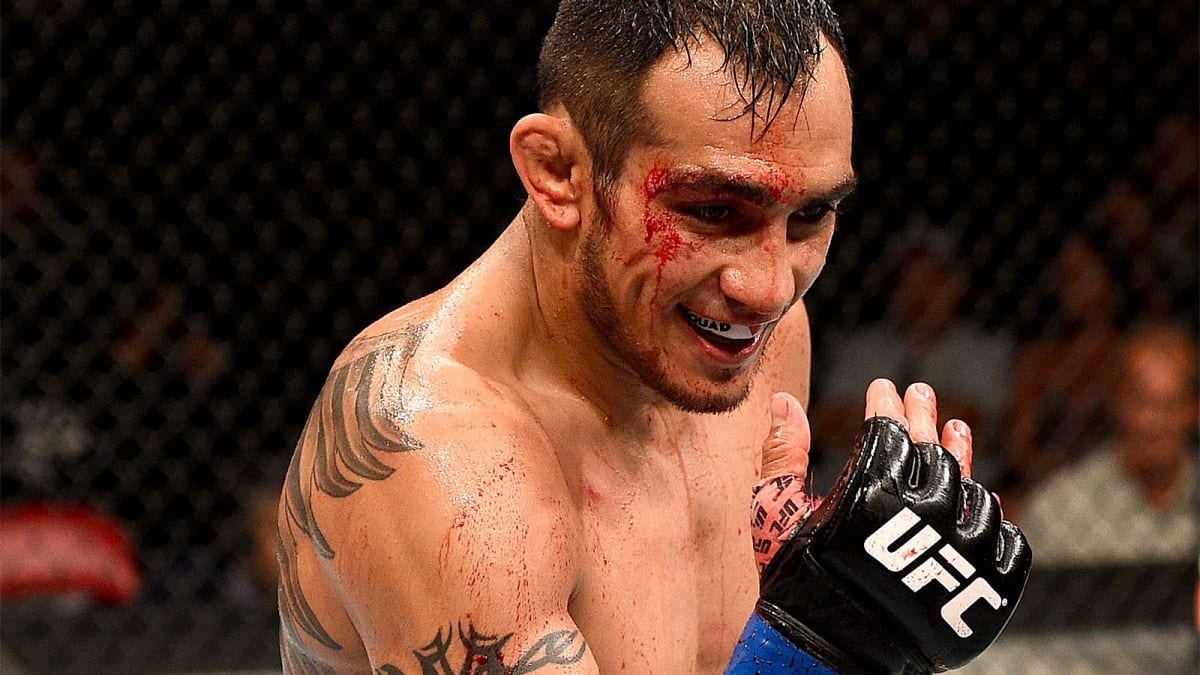 Khabib Nurmagomedov vs. Tony Ferguson is starting to feel like a dam ready to burst.
At this point, the pair have been linked for a fight for literally years, and a fight between them has been made — and cancelled for various reasons — four times. With both men currently riding some of the best win streaks in the sports history, and with both men having finally emerged from their previous schedules unhindered by injuries and suspensions, fans are adamant it's time to book the contest for another attempt.
And if you thought Nurmagomedov's impressive win over Dustin Poirier was enough to make Ferguson doubt his chances, you've never met El CuCuy.
"Well being my type of fighter and my type of guy right, you know I throw a lot of barrage punches, kicks, knees and elbows," Ferguson said, speaking on the Ariel Helwani MMA Show. "So when I see somebody pushing against the cage, not doing too much, being active and just kind of putting themselves as a wet blanket. In jiu-jitsu, we use that saying, 'He's a wet blanket'. Just sitting there, there's a lot of pressure. … It's interesting how Khabib fights, but to me it's just boring. It's lazy.
"I've been doing this a lot longer than Dustin has, in terms of grappling and chain wrestling, and doing that kind of a thing," he continued. "Not taking anything from Dustin, Dustin went out there and did a hell of a job, so did Khabib. My style's a little bit different, obviously it's not always going to work, but right now for Khabib, I think my style is the one that could outsmart him, could out think him, out move him, out manoeuvre him and put him in places he's not familiar. Like in dancing territory.
"You heard him say, 'My father say, if you don't know how to dance, don't dance'. Well shit, dude, my dad tells me not to dance, I'm still gonna go fucking dance. I don't give a shit. Straight up, dude, you got no feet."
Immediately after the fight, Nurmagomedov was asked if Ferguson was definitely next, but the champion asked for a few days break before he gave a comment on that. Watching that, Ferguson was left disappointed and confused, but ultimately felt that their history meant everyone knew the right next step.
"He didn't even sound like he wanted to take the fight," Ferguson said. "You get done fighting, you need to act interested. Everybody wants to hear it, everybody wants the fight. You and me, we know we gotta squash this shit, we got a lot of history behind this. I don't have to go and talk a bunch of shit, we already know there's a hype behind this. Four times, right? Fifth times a charm."
With all the aforementioned history, it also appears Ferguson isn't content in just sitting and waiting for the phone call. He's also being proactive in the when and where.
"If I was in charge, we'd be doing this shit in December," Ferguson said. "You know what, I'm calling it right now. I called it already. We need to do this shit in December. We're going to let Khabib go eat his hamburgers with cheese and all the other bullshit. Enjoy it fathead, don't get too fat, you know I'm coming after you harder than tiramisu Tuesdays. It's still there, it's popping. I got some new shit for you guys.
"That's what we want. That's the date we want. We want to … perform in Vegas. I know Khabib, whatever he says, you've got to accept the fight. [Or] defend or vacate. Seriously just set it down and walk away, buddy. Just say to everybody you don't want to fight me. You're scared. Retire, do whatever the fuck you got to do. You made your money. Just sit it down or walk away. If not, I want to fight in December."
Comments
comments