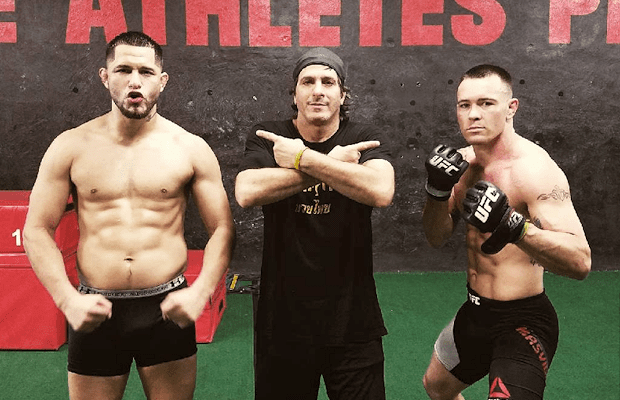 As Colby Covington and Jorge Masvidal climbed the ranks at welterweight simultaneously, MMA media found fascination in the fact the pair were great friends who might be forced to fight each other.
It turns out that behind the scenes, however, things between the two were deteriorating, and in actuality Covington and Masvidal's friendship was coming to an end. In Covington's eyes, the issues began when his career began to pick up while Masvidal was still trying to find his feet in the 170 pound division.
"As soon as I won the world title — I had him in my corner for that fight, and he never even showed up that week to help me, he didn't show up to one [session] before my fight to warm up with me," Covington said, speaking on the Ariel Helwani MMA Show. "He was making it all about himself, he wasn't truly happy for me and my success. All he cares about is himself. All Jorge is, is a guy who cares for himself. He doesn't care for others, he doesn't care for anybody unless they can do something for him.
"I'm not gonna just do stuff for you and be taken for granted … He's just a jealous little bitch."
Interestingly, it seems the pair actually had an altercation of sorts at the recent UFC 241 in Anaheim, California. According to Covington, Masvidal was unhappy with the seating provided for him by the UFC in comparison to Covington, and as such attempted to reach his former friend to discuss it.
"He was jealous, he was five rows back and he wanted to sit with the welterweight king Colby 'Chaos' Covington in the front row because he didn't have the front row access," Covington said. "He was scooting up trying to get to the front row, he ended up getting stationed about the second or third row. He had my six, and he was just talking to me at my six and that was that."
If you recall, UFC president Dana White mentioned something of an issue at the post-fight press conference that night, and was seen on camera talking to Masvidal and attempting to bring an end to the issue.
So is there any chance of reconciliation between the two?
"I think the accurate saying would be to say I'm not here to make friends, I'm here to make money," Covington said.
Comments
comments