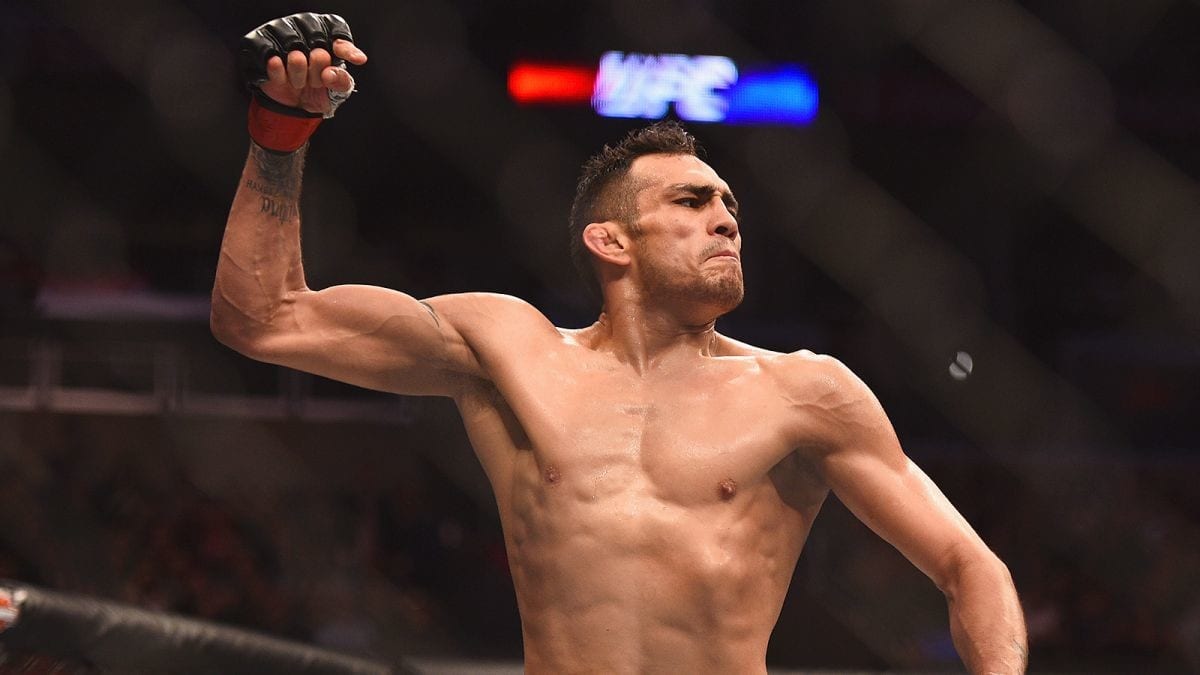 It's tough to imagine how hard it was for Tony Ferguson to watch Khabib Nurmagomedov end up in the cage with Al Iaquinta at UFC 223.
Ferguson and Nurmagomedov were scheduled to headline the event in one of the most anticipated contests in lightweight history, only for Ferguson to withdraw via injury a week before the bell rang after tripping on an electric cable during media obligations.
Nurmagomedov was then led through a myriad of different bout agreements, before Al Iaquinta accepted the contest just 24 hours before fight night. In the end, Nurmagomedov won the contest handily, using his trademark grappling ability to cement the win and to start his UFC lightweight title reign.
But while fans might have enjoyed the textbook Nurmagomedov performance, Ferguson — whose interim title was stripped when he suffered his injury — himself was left unimpressed with how Nurmagomedov's championship status began.
.Beats a non-full time fighter real estate agent ranked #11 on @ufc roster, and I get Stripped when same thing happened to @rjwhittaker1990 @teamkhabib run til' November #PaperChump 👊😎🇺🇸🏆🇲🇽 https://t.co/es3xBJEPSR

— Tony Ferguson (@TonyFergusonXT) April 24, 2018
But while Ferguson might have thought that a clever insult, Iaquinta certainly didn't, taking to Twitter to answer Ferguson and remind 'El CuCuy' why Ferguson wasn't fighting himself.
Bro you need to get off Twitter and shut it.. you blew it, you shoulda fought anyway. You lost your shot for good! this real estate agent would whoop you get dropped every fight

— Al Iaquinta🗽 (@ALIAQUINTA) April 24, 2018
And, as you might expect from two of the more.. out-of-the-box characters in the UFC, that started off an entertaining back and forth.
the ufc stripped you cause your a weirdo and Whittaker isn't

— Al Iaquinta🗽 (@ALIAQUINTA) April 24, 2018
Damn Son You Didn't Even Belong In That Cage, Although I WAS rooting For You, Weird Is Having To Make Your Own Name Plate At Media Day. Sad To See How You SOLD OUT To Fight For A Title When You Couldn't Even Win The Title. Star Struck. Best Of Luck Kid. Get Back In Line.

— Tony Ferguson (@TonyFergusonXT) April 24, 2018
I belonged more than you, you tripped on a rope

— Al Iaquinta🗽 (@ALIAQUINTA) April 24, 2018
It's Ok Kiddo, I Forgive You. I'm Not The One You're** Really Angry At. One Day We Will See Each Other In The Octagon If You Keep Winning. #TUFGuys

— Tony Ferguson (@TonyFergusonXT) April 24, 2018
Be quiet until you come back until then your embarrassing yourself you can't fight

— Al Iaquinta🗽 (@ALIAQUINTA) April 24, 2018
@TonyFergusonXT you said you were going to meet at the flag pole after school and you didn't show up because you tripped on a rope 😂 hide bro

— Al Iaquinta🗽 (@ALIAQUINTA) April 24, 2018
—
Comments
comments