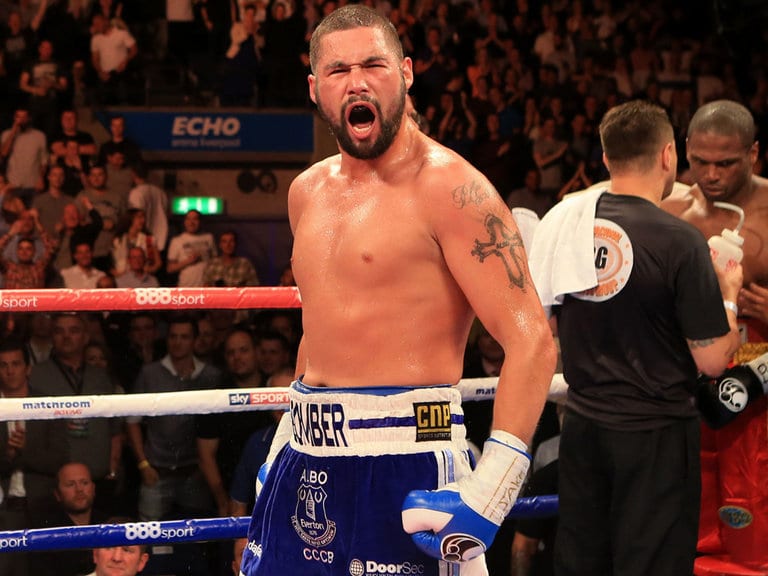 Boxing and mixed martial arts, the two most popular combat sports on the planet, have been extricably linked since both sports' biggest stars collided for an impossibly lucrative bout in Las Vegas a little over a year ago.
Tony Bellew, the former WBC cruiserweight champion and two-time conqueror of David Haye, is set to retire from the squared circle following a clash next week with the undefeated Oleksander Usyk and, in an interview from Mirror Sport, has wondered aloud what would happen if he were to transition to MMA.
"If I was a UFC fighter, I'd actually want to go down to 185," he said. "I think the 185 champion is Georges St-Pierre. But that would be very hard, if I'm being honest. (Editor's note: Robert Whittaker is the UFC middleweight champion)
"I'd look at 205 which is what I am doing easily. In fact, I'm not far off that now. But at 205 is Daniel Cormier and I would absolutely want no part of that because he would pick me apart and slam me into the floor so hard."
Bellew reserves similar respect for Jon Jones, the former UFC light heavyweight champion who is set to challenge for the belt once again in December.
"After Daniel Cormier, you're looking at Jon Jones. And Jon Jones in my opinion is probably the greatest fighter and athlete the UFC has ever seen. He's phenomenal in everything he does. He is an amazing striker, an amazing wrestler and fantastic at Ju Jitsu.
"He's got his own troublesome issues going on in his life but taking that aside, he is just a freak of nature.
"Jon Jones is not someone who I would entertain in a cage. In a boxing ring, all day. In a boxing ring a lot of them would get a good hiding. But not a cage."
Of course, this isn't the first time that Bellew, who it must be noted isn't a complete novice when it comes to ground fighting, has flirted with mixed martial arts.
In an exclusive interview with The Mac Life last year, Bellew said that he would beat Michael Bisping in both boxing and MMA.
"If Michael Bisping gets in a boxing ring with me, I would sleep him in about four minutes," Bellew said.
"I'd want to make it a bit of a show," Bellew added. "If I got him in a cage, I'd probably choke him in a bout two and a half [minutes]. He would try and take me down but my takedown defence is absolutely fantastic. At the point I would reverse it around and I would choke him out.
"I would love to go in a cage. I could do 185-pounds. Don't get me wrong, I'd have to cut off one of my ass cheeks, but I've done it before and I'll do it again."
Comments
comments