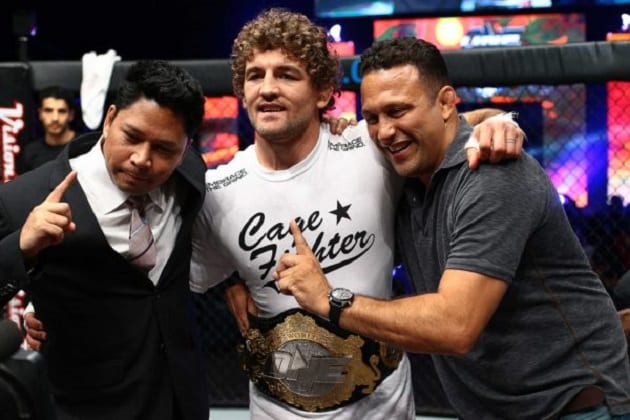 For as long as many of us in the MMA media sphere can remember, the list of fighters who should have appeared in the UFC but never did contained pretty much one name: Fedor Emelianenko. 
'The Last Emperor', a juggernaut who ran through all comers in the old west-like PRIDE organisation in Japan, was tipped on numerous occasions to sign with the world's premiere MMA organisation but negotiations repeatedly broke down.
In recent years though, another name had been added to that amended list — and he is now in the UFC.
Ben Askren, the undefeated ONE Championship welterweight champion, is widely considered among the world's top pound-for-pound fighters. He has world class wrestling chops, a 'funky' grappling style which suffocates his opponents, but now that he will soon be competing with the UFC's elite at 170-pounds, will his style translate to a whole new division of opponents intent on earning a shot at the gold?
Joe Rogan certainly thinks so.
"Everybody's in trouble," Rogan said of Askren on a recent episode of The Joe Rogan Experience. "There's a lot of motherf–kers in trouble if Ben Askren gets a hold of you. You're like 'why can't I get up?'.
"There's a reason why he's undefeated and he hasn't been hit in several fights," Rogan continued. "I had him on the podcast cause I wanted to let people know about him. I've been a big fan of Ben Askren's from back when he was a Bellator champion.
"If you watch his fights in Bellator against [Andrey] Koreshkov and [Douglas] Lima — Lima's a beast and he just dominated him. Lima f–ks people up, Lima's a dangerous, dangerous cat and Ben Askren was like 'whoops you're on your back again, you can't get up and you're taking punches'. It's just a different caliber of wrestling.
"I've said it many, many times — it's the most important skill for MMA. It's wrestling," Rogan went on. "It dictates where the fight takes place. If you want to stand up, the guy can't take you down Chuck Liddell style and if you want to go to the ground, you're the one who gets to dictate where the fight takes place. If you're the superior wrestler, it's the best base for MMA. I really believe that."
Comments
comments