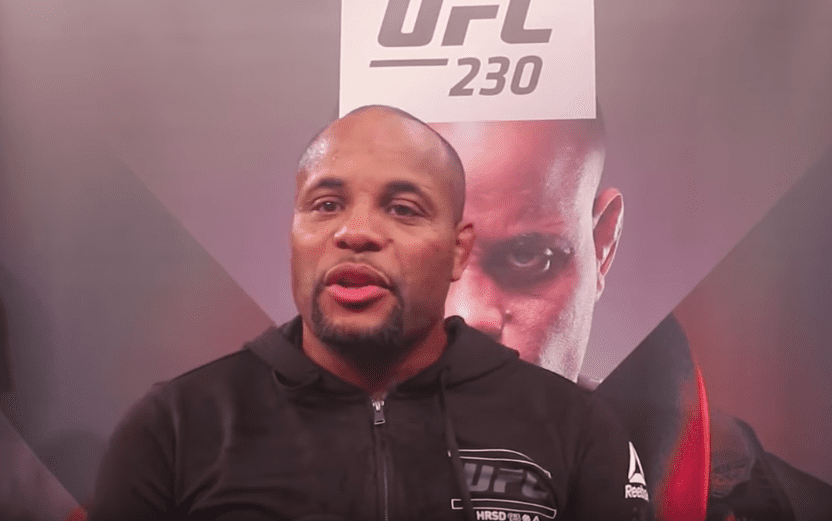 It is probably safe to say that no one, Derrick Lewis included, suspected that he would be fighting for the UFC's heavyweight championship less than a month removed from his last bout against Alexander Volkov at UFC 229 in early October. 
The above is particularly true given the manner of the bout. Lewis, down two rounds and on the way to losing a third to the giant Russian, uncorked a massive hook which stunned his opponent to the point that his legs gave way. Lewis was only too happy to follow him to the canvas to secure the referee stoppage with just seconds left on the clock.
Daniel Cormier, the heavyweight champion tasked with not allowing that scenario to repeat this weekend, says that his opponent is a much wilier fighter than some people give him credit for. He is, Cormier suggests, extremely adept at presenting false narratives in the cage, traps which he can then capitalise on.
"He's not a dummy. This guy knows what he's doing. He's trying to trick us all, but don't think that Derrick Lewis is some ignorant guy," Cormier said to the media, including The Mac Life, inside Madison Square Garden on Wednesday.
"This is a guy that went to jail as a youth and honestly when you go to prison as a kid, especially a young black kid, a lot of people give up on you," Cormier said. "In that cell, you tell yourself a lot of things. You say, 'I'm going to do better when I get out.' I'm going to be this and I'm gonna be that. And the vast majority of the guys who do say those things, they never change. They go back and do the same thing. Derrick Lewis didn't, right?
"Derrick Lewis became a millionaire. Derrick Lewis is fighting for the heavyweight championship of the world. There's something different about him and that's why I know what's in front of me this weekend.
"So let him try and trick you guys. But pay very close attention to who he really is. He's a smart guy and he ain't tricking me."
Cormier says that he was impressed not just by Lewis' win against Volkov, but the manner in which he achieved it and suggests that it was Lewis' sometimes tough life experiences which prepared him for adversity in the cage.
"when learning about Derrick Lewis, I didn't think, 'Oh, this is going to be an easier fight.' All it made me believe was that it was gonna be tougher than people or the general public may believe. All it made me understand is that him knocking out Alexander Volkov wasn't the exception. It was his expectation.
"Because he has fought from the very pits of hell and he scraped his way back up to who he is today. So him winning a fight with 15 seconds left, that doesn't surprise me. This guy won the biggest fight in the world by doing and changing his life path."
Comments
comments