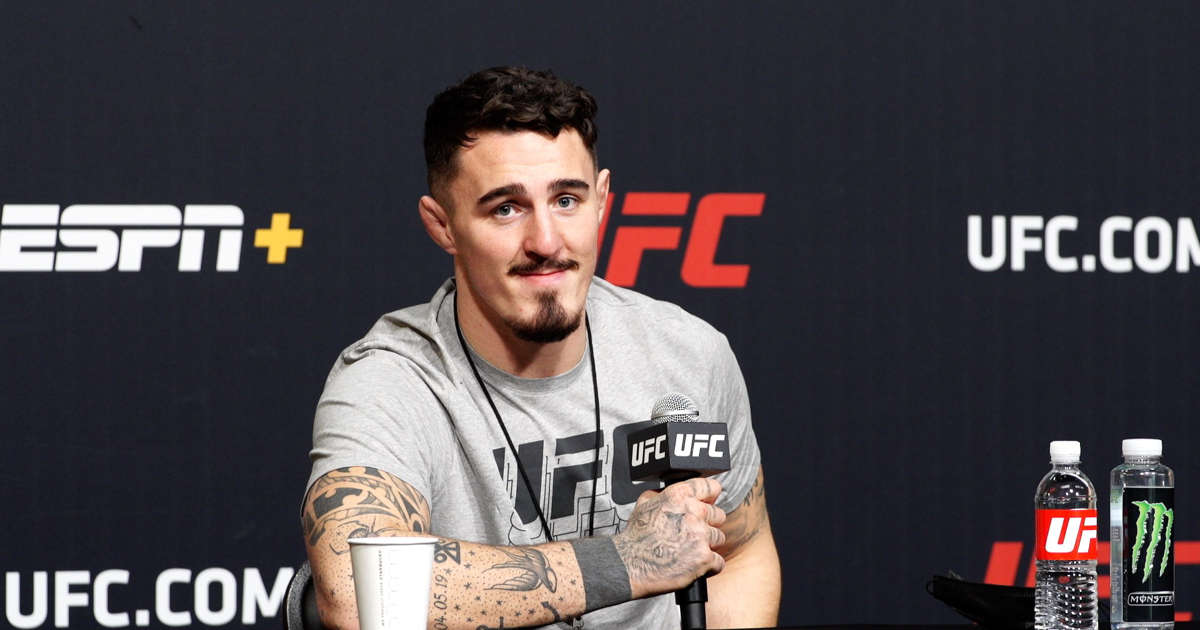 Tom Aspinall says that it would be possible for him to make his return at the forthcoming UFC London card in March — but that it is probably wiser to bide his time and wait for a more suitable date. 
The promising heavyweight, who is still just 29, enjoyed a hugely successful start to his UFC career, winning five straight fights and with none of his opponents surviving more than 6 or so minutes in the cage with him. Following a star-making performance in the cage in London last March in which he blitzed past experienced Russian heavyweight Alexander Volkov, Aspinall was ushered into another home country main event just four months later in what was billed as his toughest test against perennial heavyweight contender Curtis Blaydes.
This one, though, didn't go according to play. After throwing a kick in the opening second of the fight, Aspinall crumpled to the mat after suffering what was later diagnosed as a serious knee injury — one which would require extensive surgery and recovery.
And with the UFC returning to London in March for a pay-per-view card, Aspinall says that he could in theory be ready to fight but that it is probably best to sit and wait for a more suitable opportunity.
"My ego wants to go, 'Stick me on the card, I'm good to go,' but I need to think long term, which I've not been doing and need to get everything right,"  he said to olbg.com, as noted by MMA Junkie.
"I'm not ruling it out. At the minute, it's still like 14-15 weeks away [note: it is unclear when this interview was conducted, with UFC London around ten weeks away]. And at this point, I've not done much heavy training. It's just been rehab really. But can I get ready in 14 weeks? The answer is yes. Will I be ready to start a title run in 14 weeks? I don't know. And if I don't know, that's not the answer I'm looking for. It's highly unlikely but not a complete no at this point."
The most difficult part of a serious injury like this, especially for a young athlete like Aspinall, is to sit back and watch the division move on without him. His momentum has slowed, and has been picked up by the likes of Sergey Pavlovich who is the shiny new contender in the heavyweight fold — and Aspinall says that the appropriate decision is to step back into the Octagon when he is certain that his knee is faultless.
"I can't afford for that (the injury) to happen again," he said. "I'm not talking about finances, I'm talking about my ego. My ego can't take that again. Me on my back, clutching onto my knee — it's just not going to happen again. There's just no chance I can let that happen again. The knee has to be 1 million percent.
"I'm not kicking just yet, but I've been doing a bit of sparring and stuff. I can full-on wrestle now, which is great. I literally started that this week. I'm looking to get signed off by the physio in eight to 12 weeks, he reckons, completely signed off and back to full-on training. I'm really happy with it all."
Comments
comments