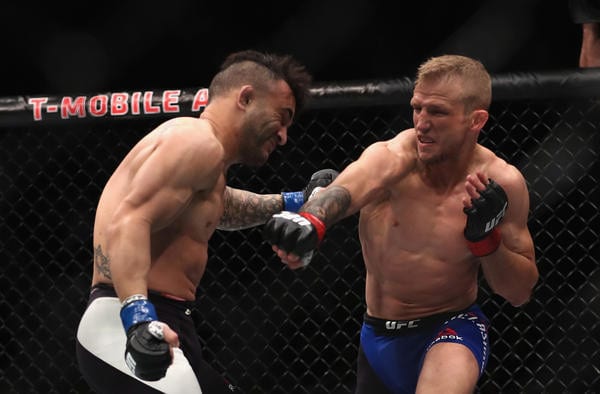 Former UFC bantamweight champion TJ Dillashaw has informed the UFC of his retirement, according to reports.
Dillashaw was unsuccessful in his most recent title bid in a bout opposite 135-pound champion Aljamain Sterling in which he came into the fight carrying a significant shoulder injury, and subsequently lost by second-round TKO after dislocating his shoulder within the first minute of the first round.
And per Ariel Helwani, Dillashaw, 36, has opted to step away from the sport given the severity of the injury and the extended recovery time which would be required to return to peak physical shape.
"Basically he had the first shoulder surgery around a month ago, the surgeon told him it is going to be a long road and he might need a second surgery down the line — that it is a very delicate injury, one of the worst injuries to a shoulder he's ever seen," said Helwani.
❌ Fighter removed: TJ Dillashaw

— UFC Roster Watch (@UFCRosterWatch) December 5, 2022
"Basically for a guy who has been through a lot over the last few years including surgeries on his shoulders, on his knees. He told his manager that he wanted to walk away, that he'd had enough.
"It came as a shock to his manager and to the UFC, but they did inform the UFC within the last two weeks.  He'll rehab and try to get back to 100 percent so who knows what happens down the line but as of right now he's retired."
Following his defeat to Sterling, Dillashaw explained in the cage that he had re-injured his shoulder several months before.
"I've got to apologize to the weight class. I kind of held it up. I completely blew my shoulder out at the end of April, as soon as I started getting ready for this, and probably dislocated a good 20 times during training camp," he said following their bout at UFC 280 in October.
"This is by far the toughest training camp I've been through because of that, emotionally. That's why I was talking some sh*t about his standup, because I didn't want him to wrestle. I knew that was the case. I told the ref in the back before we came out that most likely my shoulder was going to pop out — if it does, I'll get it back in — please do not stop it."
Comments
comments