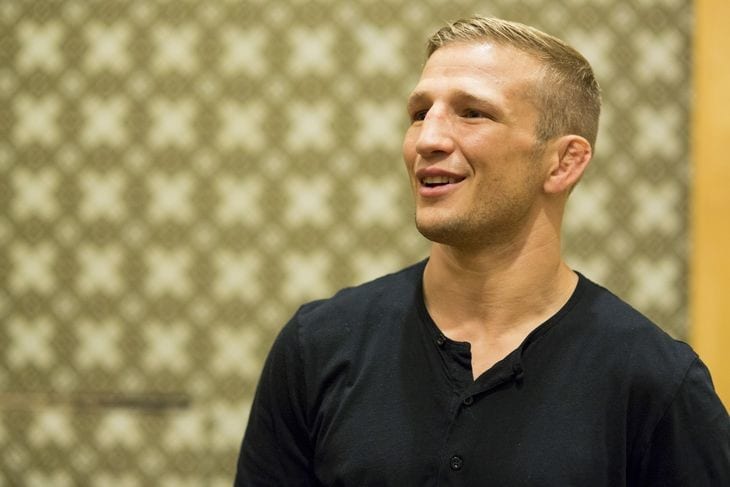 While it hasn't been confirmed, UFC bantamweight champion TJ Dillashaw is acting and training as a fight with UFC flyweight champion (and pound-for-pound best) Demetrious Johnson is in the calendar.
For a moment last year, it appeared the two were set to meet in August, only for Johnson to take a stand and refuse to fight the then-bantamweight contender. After Dillashaw defeated Cody Garbrandt and won the title, however, Johnson's reluctance appears to have shifted.
Now, both men are saying all the right things and — while negotiations are ongoing — it seems the duo are set to meet later in 2018. When they do, Dillashaw has nothing on his mind other than taking the hushed tones Johnson's talent is spoken about in away.
"I'm looking to come in and dethrone him from his legacy," Dillashaw said, speaking with ESPN. "He won't be able to call himself the 'GOAT' anymore. It's so easy for him to continue calling himself that and take the fights he thinks are a little easier. He's a cerebral fighter. He and his coach are smart guys, and they know I bring the greatest threat. I think he knows that's going to be a tough one for him to win."
For Dillashaw, there's something of a redemption factor here. The Duane Ludwig protege feels as if he himself should be spoken about in the way Johnson is, and that was it not for the razor thin defeat to Dominick Cruz two Januarys ago, he would be regarded higher than he currently is.
"It's frustrating because I believe I should be a lot higher [ranked]," Dillashaw said. "Couple split-decision losses I felt should have gone my way. That's the way this sport is. I don't lose to Cruz [in 2016], I'm up there for best in the world. It's all meant to be. It's going to end up leading to a great thing.
"That's what I'm hearing from fans and journalists. They believe me fighting Johnson is not only the most-hyped fight for 2018 but the most talented."
Comments
comments