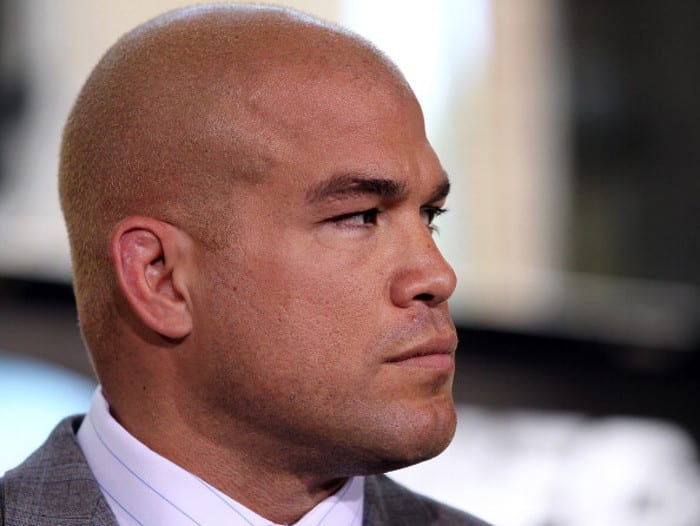 When Tito Ortiz and Chuck Liddell joined forces with boxing promoter Oscar De La Hoya last year, they proclaimed the move as a chance for fighters to find a better way to make a living outside of the UFC.
Just one event later, and Golden Boy MMA was no more.
It was November of last year when Ortiz and Liddell met in The Forum in Inglewood, California, and just as we so often see in mixed martial arts, the affair had more than a hint of a car crash about it, where you know you shouldn't look and yet you can't look away.
In the lead up to the fight, there were red flags.
Liddell's open workouts and general ability after years away from competition were scrutinised heavily, with many suggesting the UFC Hall of Famer was a shadow of his former self and that he had no business putting on gloves to fight again.
De La Hoya's interest in his new venture, too was critiqued, with the boxing aficionado apparently more interested in going on TV to attack UFC president Dana White rather than learn the names of his own fighters, highlighted by a disastrous press conference where the promoter struggled to read names off a sheet of paper.
Come fight night, things continued in the same vein. While Ortiz and Liddell's entrances to the cage highlighted the nostalgia sought after by viewers, as soon as the opening bell sounded it was clear there was no need for the fight to be taking place. Liddell looked just as slow and shot as many feared, and Ortiz got the knockout in the first round.
The two headliners gave their post-fight press conference in the arena as the cage and lights were being taken down around them, with De La Hoya was nowhere to be seen.
One gets the impression an entire documentary could be made on the disaster that was GoldenBoy MMA, and how incompetent De La Hoya's foray into a new sport was, but for now, we'll have to be content only hear glimpses of insight from Liddell and Ortiz.
Today on the Ariel Helwani MMA Show, Ortiz was asked on what went wrong with the venture. While he kept things polite and political, it's clear there's a feeling of being disrespected.
"What I really think it was the concentration of the company GoldenBoy into mixed martial arts really wasn't what they wanted to do," Ortiz said. "They wanted to continue with boxing and I think there's just so many different legs in this mixed martial arts world that they couldn't really understand how to promote it the right way. Boxing is easy, it's just one way. It's just one thing they need to do the right way.
"Mixed martial arts is totally different. Dana White is a perfect example of it, the guy works his ass off and it shows. Everybody in the world knows what the UFC is and what mixed martial arts is and that's thanks to Dana White because he worked so hard to make it happen.
"Oscar, I don't want to say anything bad about him," Ortiz continued. "Because he gave me the opportunity when no one else would, but you got to do your homework before a fight. [If] you can't even read off a piece of paper who the fighters are on the card, you're not doing your job as a promoter, and I think that's a mistake he made."
After the event was over, reports emerged that Liddell vs. Ortiz 3 garnered as little as 40,000 pay-per-view buys — a figure many felt was devastating to the men involved.
Certainly, neither Ortiz nor Liddell found any reason to continue in business with their new partner.
"I think as the fight turned out, how things happened after the fight was over, I wasn't happy, Chuck wasn't happy so why continue on with somebody that didn't really respect us for our business acumen and things we've been doing over the last 22 years," Ortiz said.
"[Golden Boy MMA] is gone. It is on The History Channel."
–
Comments
comments