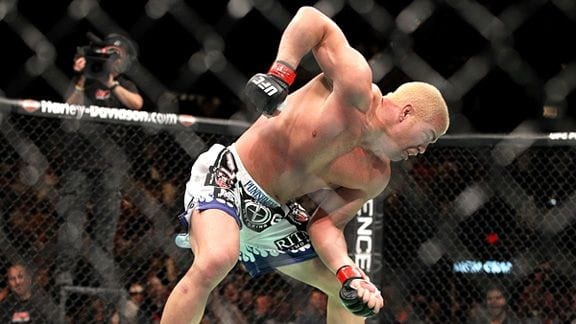 Long after they both walk away from the sport, the names Dana White and Tito Ortiz will forever be inextricably linked in the annals of mixed martial arts history.
White has overseen the growth of the UFC from the shadows it previously occupied when White invited the Feritta brothers to purchase the company in 2001 to the mainstream behemoth it is today but, as the UFC president would admit himself, it was upon the backs of fighters like Tito Ortiz that the UFC's foundations were truly built.
Ortiz, who defeated Chael Sonnen via rear naked choke on Saturday night in the main event of Bellator 170 in California, was the first real superstar of the Zuffa era, winning six straight light heavyweight title fights in the early 2000's but despite their mutual success the relationship between Ortiz and White was fractured more often than not.
White, Ortiz's manager before assuming the presidency of the UFC, has engaged in an on/off war of words with his former fighter for years now but, as Ortiz told ESPN's Brett Okamoto after his victory over Sonnen on Saturday night, the hatchet appears to be well and truly buried.
"He actually sent my girlfriend a text message because she used to work for UFC", Ortiz said. "When I first signed with Bellator, Dana sent me focus mitts with his face on them saying 'if this doesn't motivate you, nothing will'.
"So I guess it's that love/hate relationship we've got towards each other. Thank you Dana for the text saying 'that's the way you should go out — on top'.
"I love the guy. He was my first manager, you know? I always just fought for what I wanted for my career. No hard feelings. I've grown up a lot over the last four years. I'm looking to my future. I made some mistakes before and I'll never make the same mistakes again."
Comments
comments