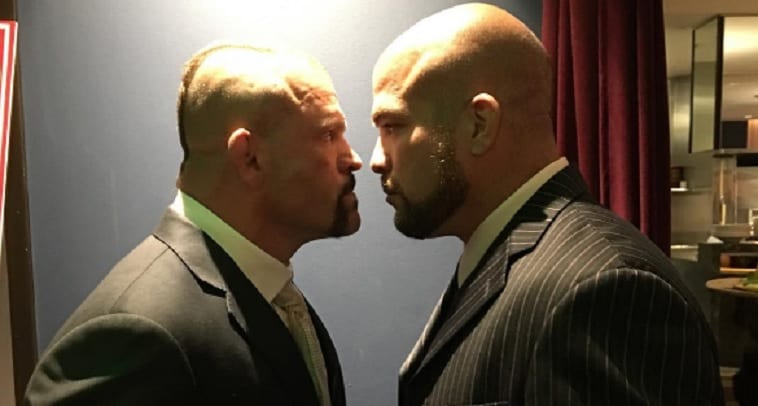 Tito Ortiz, now 43 years old, is drawing encouragement from the fact that former foe Randy Couture won the UFC heavyweight title at this particular vintage as he draws ever-nearer to a third match-up with heated rival Chuck Liddell.
Liddell (48) recently confirmed on an episode of The MMA Hour on MMA Fighting that the rumours of a comeback to mixed martial arts are indeed true. While 'The Iceman' is targeting Ortiz as his first opponent since retiring from the sport in 2010, he says that his return isn't contingent on Ortiz agreeing to fight him.
Ortiz, however, appears game.
"Tito Ortiz vs. Chuck Liddell III, the fight that all the fans wanted to see for the longest time and never got a chance to," Ortiz said in a recent interview with TMZ Sports.
"Let's do it under a different promotion. Let's do it under Golden Boy Promotion. (Oscar De La Hoya) has a great background in promoting fights, some of the biggest fights in the world, and he bit on it, hook, line, and sinker. He's in. Let's see if we can make some history here."
Liddell intimated on The MMA Hour that De La Hoya is very interested in the bout, and it could potentially lead to a behind-the-scenes job in what would be a newly-formed MMA promotion for Liddell.
As for the whens and wheres, Ortiz says that he is confident that he will face Liddell before December (when, incidentally, Liddell turns 49).
"I'm not exactly at the point where I can say where but when, October or November. That way we have some time to promote. We'll do a world tour – kind of go around to talk smack to build up the fight."
It remains to be seen how voracious the public appetite would be to see two fighters whose combined age is 91 would be, but it seems that Ortiz has drawn inspiration from Randy Couture's infamous "not bad for an old man" victory against Tim Sylvia all those years ago.
"Look at the history books. Randy Couture at the age of 43 won the heavyweight world title at the age of 43. I feel healthy. I have a great surgeon that put me together. I'm the million-dollar man so let's make a couple more million kicking Chuck Liddell's ass. It's gonna build. It's gonna be the hugest fight in MMA history, just watch and see."
Comments
comments