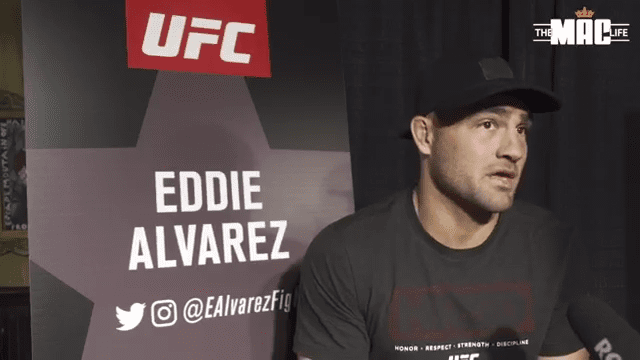 Eddie Alvarez's 8-fight run in the UFC has come to an end. 
The former 155-pound champion has inked a deal with ONE Championship and on a late night conference call has detailed his reasons for making the move.
"Without getting too much into it, we had offers from all around the world," said Alvarez, as transcribed by Jose Youngs of MMA Fighting. "We got offers from just about everyone you can think. Everyone expressed interest. The idea of ONE Championship, it's the only major organisation I haven't held world title in. I won the Bellator title twice during my career, I won the UFC title during my career and as far as I'm concerned, ONE is the only major organisation that I haven't got to touch that world title belt."
'The Underground King' has amassed an impressive list of achievements throughout his professional career. He has held world title in the UFC, Bellator, as well as other promotions like BodogFIGHT and Reality Fighting and, as he says, the lure of adding another title belt to his trophy cabinet was a prime motivator to make the move.
"For myself, for my family, for my fans and everyone, this would mean that I would have a chance at making history. Possibly history that could never be made again. It would take a fighter 20 years in the fight game to be able to fight for these major organisation, and it's almost like a lottery ticket to be able to win one world title. So to be able to go to every major organisation, fight their best guys in the world, to fight the best guys in that organisation and then beat them all one-by-one and win that world title, means the world to me.
"If I was to retire, and there was an organisation out there that was the best in the world and I wasn't able [to fight there], and people would come to me and they would go, 'Yeah, but he didn't win the ONE world title' – that would bug me. I'm going to save myself that bother and fly to Asia and take on the best lightweights there and win that world title."
With that considered, Alvarez can say with confidence that his spell in the UFC was a successful one. His first and last bouts in the UFC were losses (to Donald Cerrone and Dustin Poirier respectively) but sandwiched in there were wins against Justin Gaethje, Gilbert Melendez, Anthony Pettis and Rafael Dos Anjos.
His most high profile bout came two years ago in the first MMA main event to take place in Madison Square Garden where, of course, he was defeated in the second round by Conor McGregor in the second highest grossing event in history.
Given his status, Alvarez says that the UFC attempted to re-sign him but his head was sufficiently turned by the package on offer from ONE.
"The offer from ONE was too good to turn down," said Alvarez. "Considering what the average pay of an athlete is at the UFC, I believe the UFC did a great job. But, they have a business model. They pay a certain amount for certain fighters for certain reasons. It is what it is. There's no harm, no foul. It's a business first with these promotions. ONE looked out for me, looked out for my family and understands my wants and my needs and I think it's important to return the favour."
Another motivation for Alvarez was their weight-cutting practices which differ from those elsewhere in the MMA field by outlawing weight-cutting by dehydration.
"I love the idea," said Alvarez when asked about ONE's weight cut regulations. "I've been an advocate of it for years. If people haven't followed me long enough, they would know I started my career at welterweight (170 pounds). I never cut weight. I went 10-1 as a welterweight. Almost every single fight, I won in the first round by way of knockout by not cutting any weight at all. That's how I started my career. It wasn't until my 11th fight that I actually cut down to to 155. So I'm going to enjoy being full hydrated. I'll keep my explosiveness. I believe I'll fight at 169 because we'll need to be full hydrated.
"I've been cutting weight since I was 15 years old. There's not a healthy way to do that. The whole idea is unhealthy. To have to compete within a 15 or 20 hour frame immediately after being severely dehydrated is a tough thing to do. I don't mind it and I've done it for years but I'm very excited at the idea of being full hydrated, not making that weight cut and being able to compete at my walk-around weight. It's healthy for me but it's going to be dangerous for my opponent."
Comments
comments