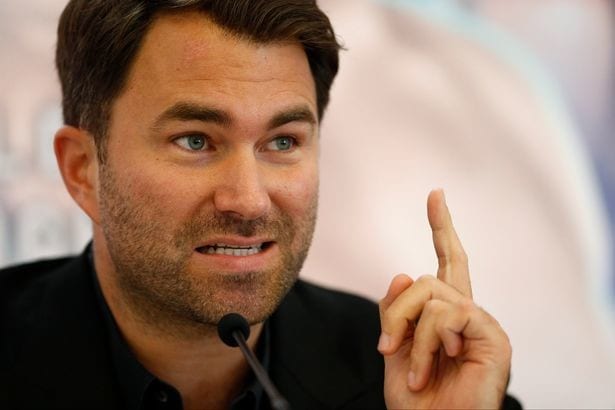 Matchroom boxing promoter Eddie Hearn believes the newly announced Canelo Alvarez deal with DAZN marks the beginning of the end for pay-per-view boxing in the United States.
This morning, it was officially announced that Alvarez' next 11 fights over the course of the next five years would be on the streaming service, taking Alvarez off pay-per-view cards and allowing consumers to watch him for a $9.99 monthly subscription instead.
And according to Hearn, the deal represents more than just the move of a high profile boxer
"This is gonna shake up the world," Hearn said at a press-conference in New York . "This is such a great deal that has happened here, and not just for DAZN, but for the boxing landscape. I believe today, with this announcement, you will see the end of pay-per-view boxing in the U.S. over a period – not today. But when you're talking about going from an $84.99 or a $99 pay-per-view, to a $9.99 or even a free fight, like in December, this is gonna change boxing. Not just Canelo, this is Anthony Joshua. Anthony Joshua against Deontay Wilder, I believe, will happen on DAZN as well."
Alvarez will make his DAZN debut on December 15 against Hearn's fighter Rocky Fielding. According to Hearn, it will act as an enticer for fans to sign on to the service.
"The plan for DAZN is to be a subscription service," Hearn said. "Ultimately, the first one against Fielding, which we'll talk about in a minute, is free. There is no subscription. You can free subscribe to that fight, so again, that's an early Christmas present for fight fans that, on HBO, you would've had to pay $84.99 for that Canelo pay-per-view fight."
Comments
comments